New website illuminates the changes and solutions ahead
The number of Americans who are passionate or concerned about sustainable choices in the food products they buy is rising. Rapidly. At the same time media are galvanizing around stories that report on the climate impacts from agriculture. These two conditions will fast-track the pace of change in consumer sustainability preferences and demands.
We are headed towards a tipping point when recognition of the role our food system plays in environmental impacts will prompt mandates for public policy changes, food production improvements and more sustainable brand choices.
The time is now to prepare for sustainability readiness as media, influence and culture shifts coalesce to push consumer sentiment forward to tangible behavior changes. We believe this will substantially impact your business strategies in the coming decade.
Two converging issues: carbon footprint visibility and supply chain realities
Supply chain emissions are, on average, 11.4 times higher than operational emissions.
The growing corporate uptake on ESG performance measurement started with 'low hanging fruit' evaluations of operational emissions (Scope 1). Then advanced to confront energy use (Scope 2). However, supply chain lifecycle analysis (Scope 3) will unearth the most salient and vital conditions that impact an organization's true carbon footprint – and thus inform the most meaningful mitigation progress targets. You can't know where you're going until you know where you are!
Industrial animal agriculture derived environmental impacts will become visible. In the food business, this is likely to influence brand and retailer decisions about your supply chain partners.
The food system reality check(mate)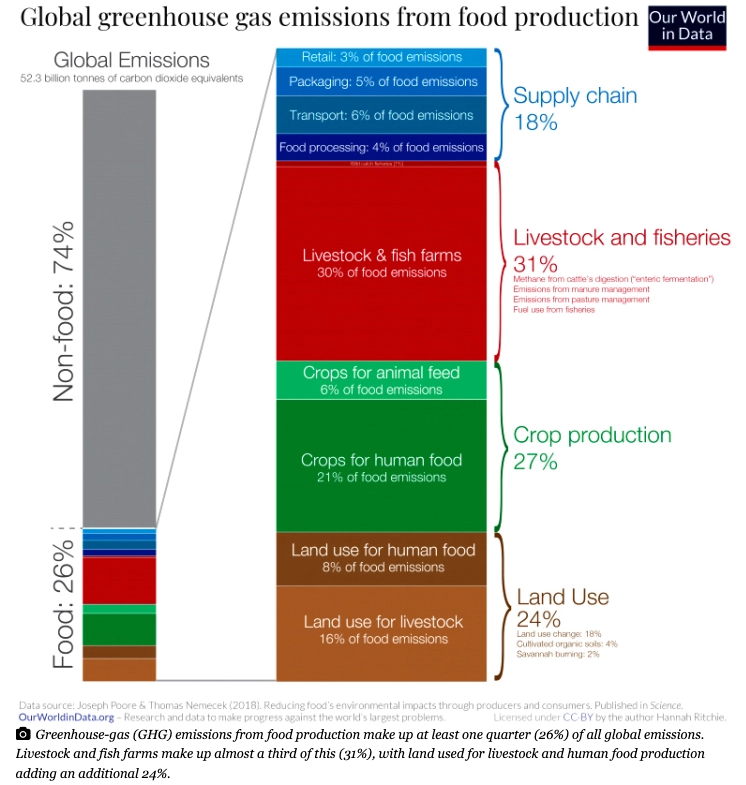 Here's relevant data that helps us understand why the significant cultural shifts are here.
Agriculture generally is responsible for anywhere from 24 to 30 percent of total greenhouse gas emissions, more than all transportation systems combined.
According to the United Nations, 14.5 percent of those emissions can be attributed to meat production. The impacts of raising livestock for food are far reaching – from ruminant animals producing methane to land degradation, loss of biodiversity and over-consumption of limited freshwater resources.
Forty percent of the world's available land is currently used for food production and of that, nearly 75 percent of it is dedicated to livestock farming. Rainforest conversion to livestock production is occurring at a shocking rate of an acre per second.
Today more than half of Americans think livestock production contributes to global warming "at least a little." Only one in four believe beef contributes "a lot." And those numbers decline slightly for dairy production.
However, awareness of these impacts is expanding and media attention on sustainability deficits and emissions in the food system are gaining momentum.
Currently 67 percent of Americans eat meat daily or a few times a week. Yet nearly every study we see points to growing consumer interest in adding more alternative proteins and plant-based foods to their diet. The reasons for these dietary modifications are swinging from health to environmental concerns.
The barriers to alternative protein adoption are price compared to legacy options, and taste compromise. Those two issues can be resolved by manufacturers through innovation, formulation improvement and cost reduction. As awareness of environmental impacts grows, adoption of new food sustainable categories will rapidly expand alongside it.
Studies suggest a shift to alternative protein sources could reduce emissions by 92 percent compared to raising livestock for food while reducing land use by up to 95 percent.
The United Nations warns we are running out of time before climate impacts and global warming exceed our ability to reverse it. At risk is the southern half of the earth and potential permanent loss of farmland rendered unsuitable for growing crops.
What does all of this mean to your business?
The time to get ahead of sustainability readiness best practices is here and now. Performance in this critical area creates important levers of competitive marketplace advantage. Why? Consumers are demanding sustainable choices. How this transition is handled strategically will have implications for future growth and brand relevance.
What brands and businesses need: guidance on sustainability readiness practices and support to level up improved strategies all the way through to the marketplace.
Today we announce brandsustainabilitysolution.com. Your online destination for information, thought leadership and support services to help meet and exceed consumers' sustainability expectations in food, beverage and related retail categories.
We invite you to explore and learn more about the Brand Sustainability Solution™ platform. There, you can sign-up for our free Sustainable Business Update™ and access our free sustainability readiness self-assessment questionnaire that will provide a quick snapshot of where your business is today on the readiness path.
What's at stake? The future of your business, brand relevance and the planet itself.

Looking for more food for thought? Subscribe to the Emerging Trends Report.

Bob Wheatley is the CEO of Chicago-based Emergent, The Healthy Living Agency. Traditional brand marketing often sidesteps more human qualities that can help consumers form an emotional bond. Yet brands yearn for authentic engagement, trust and a lasting relationship with their customers. Emergent helps brands erase ineffective self-promotion and replace it with clarity, honesty and deeper meaning in their customer relationships and communication. For more information, contact [email protected] and follow on Twitter @BobWheatley.

Tags: