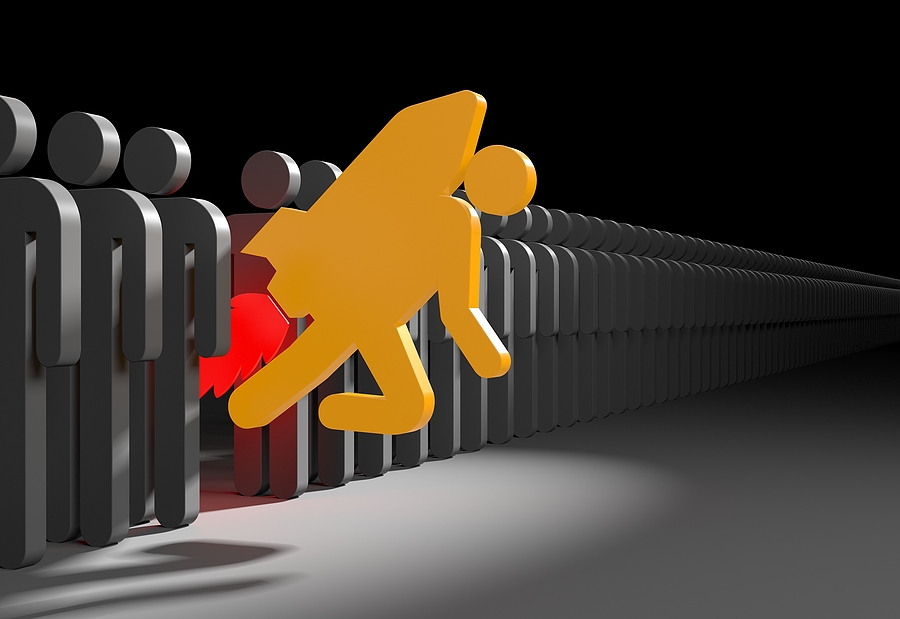 April 15th, 2021
Posted by Emergent
brand advocacy, brand marketing, Brand preference, brand strategy, branded content, change, CMO, consumer behavior, Consumer insight, Differentiation, engagement, Higher Purpose, Marketing Strategy, Strategic Planning
0 comments on "The Compelling Case for Radical Brand Differentiation"
Distinctiveness – a recipe to win the consumer's mind
The greatest challenge brands experience on their journey to stardom (or eventual decline) is an unrelenting force at work that drives sameness into category competition. Ask any brand minder and they will recite their product advantages, formulation improvements and what they deem believe are distinguishing features. Yet in reality these characteristics are often a mild gradation of difference. This all-too-common condition pushes purchase decisions into more marginal and subjective territory such as attraction to package graphics and photography.
If you want to win the battle for the mind, you need every advantage. That begins by recognizing the all but universal existence of traditional category conventions and behaviors. The trick is working overtime to separate the brand from the crowd in your category orbit. Like 10-year-olds at a soccer match, most competing category combatants chase the marketplace ball of go-to-market practices like a rabid pack around the field. They rarely separate fully to position themselves uniquely for a more strategic and ultimately game winning play.
Be different. No really, really, really different!
In every category brands must compete for share of brain, wallet, sometimes stomach, engagement, mattering and value to the user. Yet modern advancements in technology, innovation, ingredient sourcing and production have made it virtually impossible for any brand to sustainably own a secret sauce achievement over time. One that can radically separate it from the other contestants. Copying is now an achieve-able artform.
If anything, brand experiences become somewhat interchangeable and thus can (will) fall victim to lowest common denominator pricing maneuvers that create a pocketbook incentive for switching. On the other hand, brands with deeper relationships and emotional connection to users can overcome the frequent rust of commoditization and marginal distinction.
Here we make the case for radical differentiation!
Let's work together to break the rules and category conventions of brand behavior by flying purposefully in the opposite direction. Your goals and objectives are better served by creating greater separation than deciding to "live with" the middle-of-road-ness that often exists side by side in how brands package and market themselves. It may feel safer to follow the pack, but in the end home run outcomes are unlikely when virtually every brand bat is going to be calibrated for a reasonably decent base hit with consumers.
In fact, different is more powerful than better. Better is always a shade or degree move (perceptual). Unique can win devotion past the purchase decision.
Where can brands strategically separate?
Let's start with who you are serving. Time and time again we've found that redefining who the core consumer is can offer a healthy start on the journey to radical differentiation. "All things to all people" will never be a recipe for distinction.
In every food, beverage and lifestyle brand category there are unique consumer cohorts. We also know that in many instances a more involved and engaged category buyer is often a heavy user who will represent a disproportionate share of brand sales volume and profit.
Narrowing the definition of who you want to serve is your first move towards better brand health, looking for the pockets of greater fan participation and emotional investment.
We routinely conduct category segmentations not just to understand different cohorts shopping a set of brands but also to find the fanatics and warriors who are champions of a business based on their lifestyle and attitudinal quirks or preferences.
Persona development work is key to helping define these slices of marketplace enthusiasts – those more likely to resonate to what's on offer.
How do you design for them? What do they want? What constitutes a surprise and delight? How can you enhance relevance and resonance with them? Yes this means picking a narrower audience profile for planning. However, we've repeatedly observed this sharpened focus will improve every aspect of strategic gamesmanship while creating efficiencies in media communication. It sets the brand up to really engage groups of enthusiasts rather than being simply noticed (or not) by everyone.
Re-packaging the story
Designing language, tone and story relevance to the right audience is critical to set the brand apart. Spending time navigating Oatly's website is a fascinating tour of a business with a unique voice, wearing its beliefs and values like a form of branded organic fashion. It's not for everyone and isn't intended to be so. It is a separator from all others, a rebel brand archetype that steps away from dairy conventions to do everything differently.
The words and narrative are masterfully curated to reflect the brand's higher purpose around sustainability and a belief that an authentic human voice is more engaging than clever marketing speak. If the audience focus has first been narrowed to a band of believers, then the story should be refined to reflect and mirror their interests, concerns and values.
Symbolism
These days product purchases are expressions and visible flags of values people want to be associated with or known to others for supporting.
The Nike brand isn't really in the running shoe or athletic wear business. It is in the celebration of human commitment to athletic improvement and competition business. The brand is drenched in symbols of belief, striving, personal improvement, effort and achievement. These values transcend the levers of commerce and elevate Nike from all other players.
Can you add symbols and signals to your web site and outbound content that aligns your brand with shifts in popular culture important to your brand's relevance and resonance?
Looking for white space (differentiation) and trends to lead (culture change)
White space discovery is harder than it sounds. Our brains are wired perceptually to see what's there rather than what's not there. So how do you discover white space innovation in crowded categories? You must become a zealot customer anthropologist, studying their needs, wants and desires looking for under-served or unrecognized need states.
Both Beyond and Impossible plant-based meat companies arrived on the scene at a time when consumers increasingly viewed plant-based products as better for them. A trend gaining momentum across the food store. Witness the rampant growth of plant-based milk brands that upset the legacy dairy industry.
Their radical differentiation was to walk the opposite direction of improving vegan burgers for vegans. They set out to make plant-based burgers for meat lovers. Audacious. Charismatic. An impressive move to assault the beefy meat case. Their claim was bold and unique. The product experience delivered and now it's a juggernaut of business expansion. A real zig to the common zag of most plant-based food innovations.
Higher purpose
People want to be part of something bigger than themselves. They want to believe in brands that share their values, that provide a way to make a difference. When the brand voice goes beyond the product to embrace issues people care deeply about, the dynamics of the consumer brand relationship change. No longer just transactional, the brand is imbued with deeper meaning and the voice gains gravitas and potence.
This is how you create a community of activists, advocates, ambassadors and believers who can see themselves embedded in your mission. Remarkably this tends to lower the overall costs of marketing because the brand doesn't need to beat people over the head with paid self-promotion. The community has its own engine, pushing word of mouth out horizontally.
Some of the more visible examples:
Patagonia and its out-sized commitment to sustainability
Ben & Jerry and its radical commitment to social activism
Panera Bread and its ongoing efforts to address hunger and transparency
Warby Parker and its mission to help provide sight to the seeing challenged
Timberland and its tree mandate to answer carbon footprint and climate change
Of note, higher purpose is a zig move for the very reason so many brands don't recognize the value of it, or fail to execute authentically, fully. Higher purpose only works optimally when belief and dedication to the platform is religion inside the organization, flowing all the way through operations, marketplace behaviors and long-term strategic decisions.
What's your higher purpose and the reason people should join your brand's movement? Or do you still think a formulation tweak will lead to massive marketplace victory?
Designing to intentional difference
Radical differentiation is a strategic play. It is how you can win the battle for the consumer's mind when (for the most part) product categories are noisy, fuzzy, blurry pools of sameness. Consider who you are serving and what a narrower focus could mean. Look at white space innovations and trends as an opportunity to step outside the category norms. Change your voice, behave differently at the shelf. Move out of the standardized look and feel in how your product is packaged.
Run in the opposite direction from the pack. You will stand out. People will notice. If it's done right, it can mean a change in the future trajectory of your company.
Should this concept strike you as worthy of further exploration and you would like to get a fresh perspective on what it could mean for your business, let us know. We would love to discuss how this journey might benefit your brand.
Use this link to open an informal conversation.
Looking for more food for thought? Subscribe to the Emerging Trends Report.
Bob Wheatley is the CEO of Chicago-based Emergent, The Healthy Living Agency. Traditional brand marketing often sidesteps more human qualities that can help consumers form an emotional bond. Yet brands yearn for authentic engagement, trust and a lasting relationship with their customers. Emergent helps brands erase ineffective self-promotion and replace it with clarity, honesty and deeper meaning in their customer relationships and communication. For more information, contact [email protected] and follow on Twitter @BobWheatley.