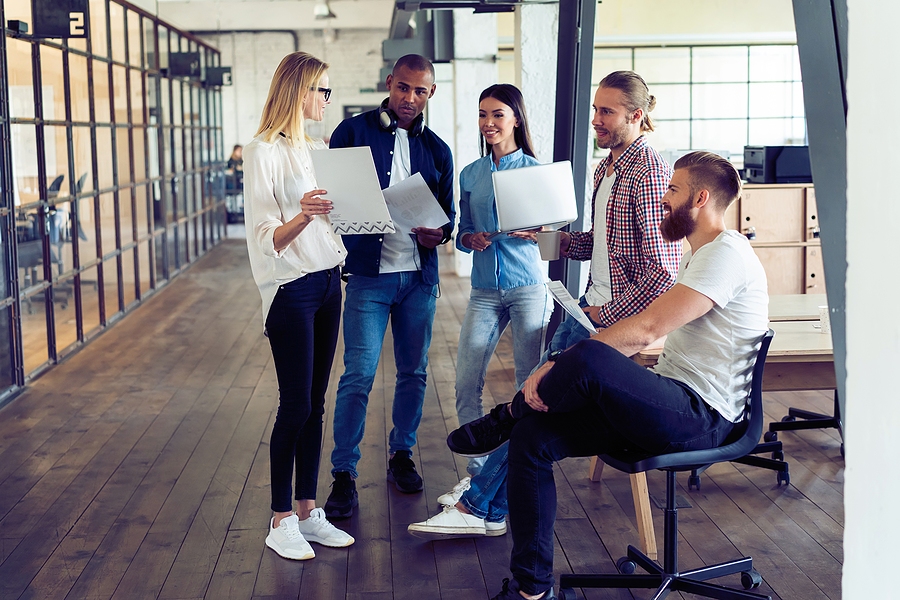 November 17th, 2021
Posted by Emergent
Agency Services, CMO, Content Marketing, Differentiation, Emotional relevance, engagement, Higher Purpose, Human behavior, storytelling, Strategic Planning, Sustainability, Transformation, Transparency
0 comments on "Marketing is Not a Department"
Company beliefs and behaviors impact business strategy
Your entire organization comprises the marketing platform now. Your higher purpose, mission and belief systems will impact your company's marketplace behaviors and status. Operations, supply chain policies, manufacturing and employee commitments influence how consumers and stakeholders perceive your brands and resonate to your business.
Marketing is no longer a department. The entire enterprise is integral in the strategic game plan to get and keep a customer. It is time for leadership teams to acknowledge this insight and take the strategic planning silos down in the interest of improving the organization's growth and advancement plans.
Still a department?
An objective assessment of many CPG and food retail businesses would conclude that marketing operates as a department, likely down the hall from sales and human resources. This compartmentalized organizational structure has been cast in stone for eons. It came to be in the command-and-control era of business management. That condition, however, has changed forever. In the age of consumer control, it is vital that customer-centricity reigns as the operating philosophy governing how companies organize for success.
Our challenge to you – it is time to reconsider how the business is assembled when you know your thinking and planning will be influenced by how the customer is prioritized (or not) in the hierarchy of business operations and policies.
Traditionally, marketing has owned responsibility for interpreting consumer insights, developing brand communications strategies and product promotion intended to sell more product to consumers. Marketing was usually seen as the alchemy of awareness and persuasion linked to driving the sales funnel from consideration to purchase among increasingly elusive users.
Consider this: now, literally every aspect of how a company behaves, makes decisions, its belief systems and values, how operations unfold – literally everything from the factory floor on up has a role to play in the organization's ability to get and keep a customer.
If this is true, then every discipline within your company is involved to greater or lesser extent in the activity of marketing, whether it's acknowledged or not.
Attracting and retaining customers will happen in direct proportion to the organization's ability to operate fully in service of customer needs and wants. If your company ultimately exists to get and keep customers then increasingly this requires not only a single-minded focus on user aspiration, but also a robust frame for corporate citizenship in an increasingly issue-driven business environment.
Sustainability is a generational-level challenge that will influence every aspect of how you plan and succeed as a business
How well employee practices, operations, supply chain, manufacturing, and policies drive ESG and carbon footprint commitments is integral to successful marketing outcomes.
The marketing mission, therefore, isn't just refining communications strategies focused on showcasing products and services, the entire proposition must embrace how the organization best operates in service of people and the greater good.
Higher Purpose is not a marketing program
Your company is a living, breathing entity. It is no longer just a machine designed to generate and sell products at a profit. It exists to be influential in your customers lives and to make a difference in addressing some of the most challenging conditions ever faced by humanity.
Your company's mission, beliefs, values and purpose fly above the legacy goal of generating shareholder returns. When purpose and mission are viewed in this context, it contributes to a revelation that the entire enterprise informs how your offering is perceived. It impacts how consumers interact with your brands, what your narrative is and how you contribute in tangible ways not only to their lives but also the planet's welfare.
A purpose-led organization will operate with greater clarity and intention. The mission acts like an anchor of deeper meaning where employees and customers alike join the business as advocates and believers, not just participants in a transactional process.
Getting and keeping the customer
For decades, the food and beverage business was largely driven by taste, price and convenience.
The technology to enhance and deliver taste and eating experience is refined and is now table stakes.
Price is a relative term that moves up and down in relation to a sense of economic prosperity or uncertainty.
Convenience has been flipped on its head as e-commerce facilitates friction-free shopping and culinary culture holds sway over 1970's box and can food culture.
Consumers care more now about values, transparency, health and wellness, supply chain commitments, animal welfare, sustainability practices, empathy, unselfishness and employee treatment.
Attraction and engagement depends now on the company's ability to participate as a positive force in their lives and society. To market itself successfully all corners of the organization should operate like a well-tuned symphony that authors credibility and trust.
So marketing is not a department. It is the nerve system of the organization constructed to operate in service of customer aspirations and goals. This will make strategic planning a team exercise to identify barriers to productive growth and remove them. In its place is a flatter organization that empowers team members who contribute to helping the entire enterprise meet its mission obligations and build relevance.
HERE is a link to download our two-page summary of what Emergent is and does. We encourage you to take a look and let us know if you are interested in exploring a fresh perspective on how your organization and brand can optimize its growth strategies. We can help you craft and tell an improved story.
Looking for more food for thought? Subscribe to the Emerging Trends Report.
Bob Wheatley is the CEO of Chicago-based Emergent, The Healthy Living Agency. Traditional brand marketing often sidesteps more human qualities that can help consumers form an emotional bond. Yet brands yearn for authentic engagement, trust and a lasting relationship with their customers. Emergent helps brands erase ineffective self-promotion and replace it with clarity, honesty and deeper meaning in their customer relationships and communication. For more information, contact [email protected] and follow on Twitter @BobWheatley.