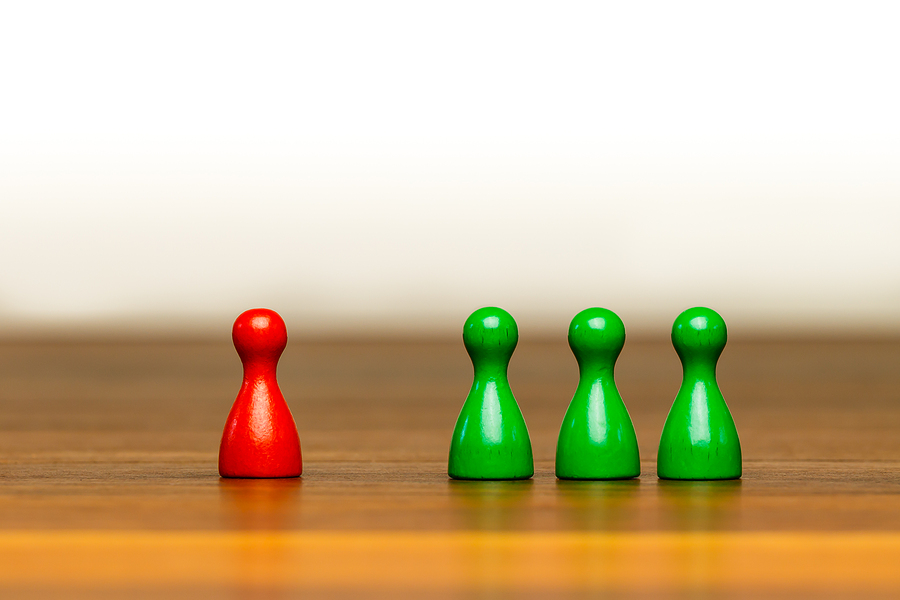 November 15th, 2023
Posted by Emergent
brand advocacy, Brand Beliefs, Brand differentiation, brand marketing, brand messaging, Brand preference, brand strategy, Differentiation, Insight
0 comments on "Leveraging "Better" is a Trap"
Don't play in someone else's sandbox
What we're about to discuss here is vital to brand marketing best practices and sustainable business results.
Most of the time brands and businesses focus their marketing on being better than X. When you are better than X your brand identity is linked to a competing brand. This is a trap. Being better is actually worse. Being different is better than better. Why? Because superior products often lose to brands that dare to be different.
When better silently runs the show, your storytelling is always focused on features and benefits. Some may even strive to be the best – which is really "better" dressed in a suit. Example of a "better" expression: "more" is a slippery slope to feature selling. More control. More perks. More of magic ingredient X. You'll find hidden under every feature benefit message there is a "better" snare.
It's a misguided, if all too common, principle that inevitably focuses the conversation on competitive benchmarks and comparisons. It is an endless cycle that leaves real consumer traction and engagement unattended – because the story always makes the brand the hero and not the consumer.
Better brands are never about product features and benefits, and consumers no longer buy them anyway. That's table stakes. Instead, people are attracted to deeper meaning, aligned values, higher purpose and are magnetically drawn to different. Your brand should offer a point of view, express opinions and bring a vision of the future.
Rule number one: in compelling brand storytelling the consumer must always be the hero of your narrative. Your brand should avoid competing with the consumer for the hero role. Every consumer, every day wakes up believing they are the hero of their life journey. Your brand's proper messaging role is as coach, guide and empathetic enabler of their journey.
Stronger brands always focus on being unique, not better
Strategic brands say and do things differently
They hew a unique tone
They often carve a controversial path
They see the future through a different lens
They operate with a belief system
The belief is the benefit
Great brands are always founded on beliefs
You may think that users care about better. However, you just haven't given them something greater to believe in. Shifting the story spotlight takes the glow off of your competitor – who incidentally really doesn't matter to your future prospects and growth.
It isn't easy to be different. It takes incredible discipline and the support of your leadership team not to fall back into feature/benefit selling. Strategic strength springs from a well-defined understanding of who you are as a brand and company, and what you want to become over time.
Following the path to different
Here are some examples of how you can embrace different in your strategic game plan.
1. Create a new category
Historically and traditionally skincare and make-up brands conveyed that beauty is always applied. It exists on the exterior as an aspirational expression of status seeking and attraction. More enlightened brands have arrived to flip the script by attaching a broader vision of what beauty is and how it manifests. Instead, real beauty comes from within.
Beauty evolves as a coalescing of better health, fitness, spiritual growth and is inclusive of different body types, ages and lifestyles. The brand voice morphs to focus on wellbeing, happiness and growth rather than the singular application of a product. This different view authors a unique voice that carries added relevance and value to its audience of believers in a more validating life view.
Category creation is the ultimate move to inject different into brand strategy and positioning.
2. Move from product utility to lifestyle association
All too often product communication is devoted to specific technologies, formulation superiority and benefits of same. The product and brand are always the authoritative voice. Instead, moving to a lifestyle brand strategy enables personal authority. Great lifestyle brands insert themselves into important moments and experiences sought after by users. These are often situations and memories that echo the brand's deep belief system – it's "why" rather than what or how.
Yeti is an iconic example of a brand enrobing itself in a cloak of lifestyle experiences that celebrate outdoor adventures and enable the freedom of the soul in nature. Yeti is not selling coolers and tumblers. It's singular devotion to breathing life into the emotional experiences of lifestyle association endears itself to its audience of evangelists and ambassadors. Yeti's deeper meaning separates and elevates it from other brands who offer similar products.
3. Change the story focus
Most brands talk up themselves incessantly. It's always about who we are and what we do. There is self-reverence and promotion. All about me. Instead of revealing yourself to the customer, how about revealing the customer to themselves. Stop expressing who you are and start talking about the customer – their aspirations, interests and needs.
Most hotel brands focus on their properties to extol design, amenities, services, architecture and location. Here are our features. Frankly the entire conversation is nearly generic brand to brand and separated mostly by price class.
Along comes Airbnb to completely violate the rules and tropes of travel brand communication. Rather than say look at who we are, they flip the lens around to say I see who you are. It comes from a different view of what travel is and how it can be experienced. Belong Anywhere is a unique concept that makes the customer and user experience paramount. The brand becomes an enabler of a unique experience – a coach and guide on a different and more human way to experience travel and destinations.
4. Change the reality
Disruption can be a useful tool when it reorients what people take for granted. The goal is to help people find and accept a new reality. Everything we thought we knew about __________ is wrong. This is how to do it (understand it) right.
The emergence of sustainability strategies and a new understanding of the role our food system plays in climate change is a reality-changing condition. Most people don't think of food as a contributor to global warming. A brand that steps fully into conscious consumption and the commitment to improving sustainability bona fides creates a game changing story for consumers – and potentially a transformational view of how food should be created.
Similarly, what we think we know about health, wellness and aging is ripe for a makeover. Creating a new reality is a road to difference, uniqueness and sought-after guidance. The new paradigm of belief positions your brand as arbiter of a new way of thinking, doing and believing.
Different is the Holy Grail, let's look for it!
It is time to back away from being better or best to refocus your marketing and messaging energy on radical differentiation. Best practices in this area inevitably leads to refinement of brand belief systems and adding deeper meaning to who and what you are as a brand and business. Collectively, if you can do it and stick to it, your brand will benefit from a new era of transcendence and value to users who come to you for better and more lasting reasons than a product feature.
If this discussion stirs some thinking and questions in your mind, and you'd like to get those ideas on the table to ponder with some like-minded thinkers, let us know. We'd love to think with you about how this thinking can be applied to your brand and business. Here's a link to start an informal conversation.
Looking for more food for thought? Subscribe to the Emerging Trends Report.
Bob Wheatley is the CEO of Chicago-based Emergent, The Healthy Living Agency. Traditional brand marketing often sidesteps more human qualities that can help consumers form an emotional bond. Yet brands yearn for authentic engagement, trust and a lasting relationship with their customers. Emergent helps brands erase ineffective self-promotion and replace it with clarity, honesty and deeper meaning in their customer relationships and communication. For more information, contact [email protected] and follow on Twitter @BobWheatley.