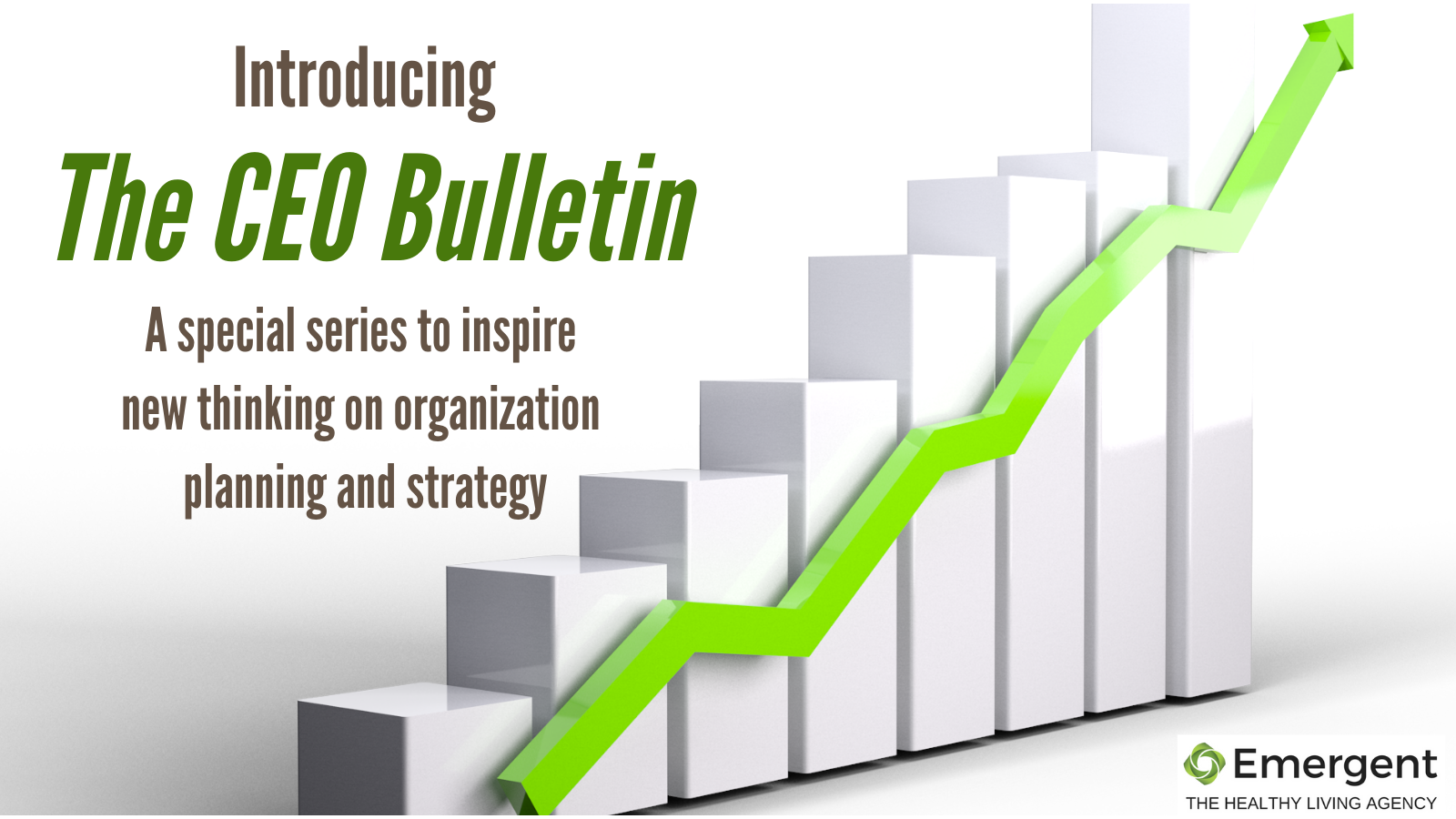 October 14th, 2021
Posted by Emergent
Brand Activism, brand advocacy, brand marketing, brand messaging, Brand trust, Carbon footprint, change, Climate Change, climate culture, Differentiation, Emotional relevance, engagement, Greenhouse Gas, Greenwashing, Growth, Higher Purpose, storytelling, Strategic Planning, Sustainability
0 comments on "Trends Impacting Where Your Business is Truly Headed"
Early adopter behavior driving the marketplace…
Emergent appreciates our growing CEO and C-suite readership. Our goal is to provide meaningful trends analysis and strategic guidance through the Emerging Trends Report. We are introducing a special series – the CEO Bulletin – intended to inspire new thinking on organization planning and strategy. Should you have a topic you'd like us to cover – drop us a note. Your comments and feedback are always welcome.
Sustainability will be the most important strategic consideration for your company in the coming year, and Higher Purpose will be a key point of differentiation that helps move your performance in the marketplace.
Here's why.
Sustainability is no longer a tertiary, benign or merely aspirational construct. This strategic imperative is connected to the health and wellbeing of the planet on which we live. Early adopter consumers see conscientious consumption as their flag and are empowered to signal to the world around them that climate-responsible products are their first choice. Half-baked solutions and absence of Climate Footprint and Life Cycle Analysis fundamentals that guide mitigation metrics will be exposed for all to see. These influential consumers are driving expectations, preference and marketplaces.
Being responsive to their Sustainability concerns isn't just the "right thing to do" it is a source of competitive advantage and a critical point of leverage on the path to growth in marketing, distribution and sales leadership.
Imagine the friction consumers are encountering right now because it's nearly impossible to sort which product is a more sustainable choice at retail. The consumer's priority is once again ahead of brand performance in the marketplace. Who will be first with the most? How will sustainability impact labeling and retail navigation?
When cultural changes take root, it presages larger shifts in sentiment – leading to momentum deviations that are an immutable guide to strategic investment. What should be at the forefront of your thinking now is the very real potential of ending up on the wrong side of this sea change. Not because the word sustainability is left out of your brand communication lexicon, rather because it is not fully, correctly built out, thus creating real vulnerabilities around greenwashing. People will notice, experts will weigh in, influencers will influence. There will be winners and losers in the "Sustainability Battles".
Moreover, we have data and proof that fully realized sustainability strategies lead to share growth and sales leadership in your respective category. Why? The same rule applies here: because consumers care about it and support businesses that authentically walk the walk of climate impact mitigation alongside business strategies that clearly, emphatically support authentic sustainability practices. Consumers are watching. Early adopters are showing them what to do. This creates a steamroll effect that leads to category upheaval as smarter brands overtake the laggards and pretenders.
Recent research conducted by IRI and the NYU Stern Center for Sustainable Business indicates consumer uptake of sustainability marketed products has remained strong despite the Pandemic. Sustainable brands outperformed conventional alternatives across 36 categories in 2020. The segment achieved 16.8% of total purchases in a banner year for CPG sales.
Think differently
Sustainability practices should lead business strategy and will have a profound impact on new product launch initiatives. This isn't just a corporate commitment, it's an anchor at the street level to differentiation, meaning and value and must be fully baked into marketing planning all the way through to execution.
What will your brand voice be on this? What evidence can you provide to the early adopters who know great practices from anything less than that? How is this integrated into your story and narrative? You already know that story-well-told is where all of this begins and takes root.
In a recent report at Pet Food Industry magazine, one quote-able source nailed the conditions squarely:
"Clean label will move into sustainability — how are pet food manufacturers being more conscious of the environment?" said Tammi Geiger, marketing manager U.S. for Oterra, a supplier of natural colors. "How are they producing their products so they are having a positive impact on the planet and even communities? Manufacturers will be asked by their customers to tell their production story and they will therefore put pressure on their ingredient vendors to have sustainability as a main focus. This can be a way to differentiate from other brands as well."
Purpose is a marketplace imperative
You can see the pattern emerging. Purpose, beliefs and meaning equate to value and preference. The trouble with Purpose is you can't bolt it on as a marketing message construct. Purpose needs to emanate from why your company exists, what you are doing to empathize with user needs and how are you adding value to their quality of life in tangible ways.
Sustainability and higher purpose are family, joined forever in a union that showcases how people have changed, what matters and the real drivers of competitive advantage that goes way beyond the features and benefits layered into your products.
You need:
Purposeful brands
Purposeful labels
Purposeful shopping experience
Purposeful supply chain
Purposeful organization
Purposeful employee policies
Purposeful corporate soul
There is a natural tendency to lean in on technology and better mousetrap thinking. To be sure product quality and innovation are key to brand and business health. But the truth of the matter is brand beliefs, values and higher purpose matter even more on the path to success. The world has changed, and you must change with it to remain relevant and resonant.
The chin you lead with
Now more than any other time in the history of business and marketing strategy, uniqueness and differentiation are key to elevating your business above the vast degree of sameness and similarity that exist category to category, retailer to retailer.
Higher Purpose is a differentiator!
This is how your unique company DNA and value system gets wired into the brand narrative in a manner that's own-able for your organization. It manifests in how your business operates to meet the life-journey aspirations of your customers. Note: you have to truly care about the welfare of the people you serve to make this work.
Our Brand Sustainability Analysis process is designed to optimize this requirement for the very reason it is aligned with consumer preferences and behaviors. The early adopters you encounter are the ones creating influence that drives momentum changes. What becomes popular, noticed and sought after should factor in to your strategic thinking.
Purpose is a center-of-bulls-eye concept that works seamlessly into the sustainability recipe as a component of business and brand value.
If fresh perspective and assessment of your sustainability and purpose bona fides would be helpful to your planning, use this link to open an informal conversation with us about your needs. We promise a thorough, complete analysis of competitive advantage at a time when consumer behaviors are changing the game around you.
Looking for more food for thought? Subscribe to the Emerging Trends Report.
Bob Wheatley is the CEO of Chicago-based Emergent, The Healthy Living Agency. Traditional brand marketing often sidesteps more human qualities that can help consumers form an emotional bond. Yet brands yearn for authentic engagement, trust and a lasting relationship with their customers. Emergent helps brands erase ineffective self-promotion and replace it with clarity, honesty and deeper meaning in their customer relationships and communication. For more information, contact [email protected] and follow on Twitter @BobWheatley.