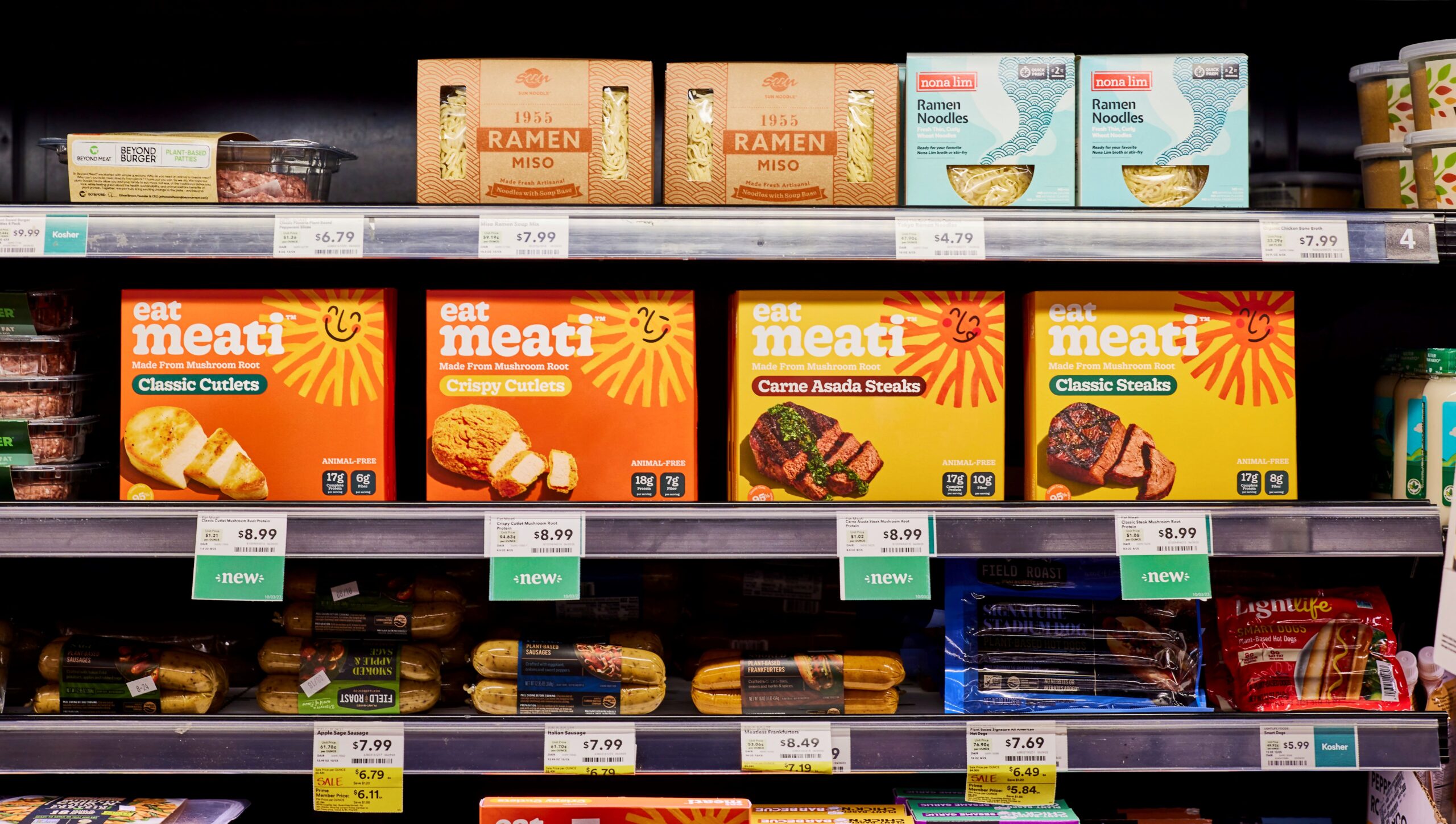 August 31st, 2023
Posted by Emergent
Brand Activism, brand messaging, Carbon footprint, Climate Change, Emerging brands, food experiences, Food Trend, Healthy Living, Sustainability
0 comments on "Meati Powers Up New Meat Category – Without the Animal  "
The healthier, more efficient way to make meat
We at Emergent believe that pushing your product concept and brand positioning sufficiently to the right or left of center is desirable to author a new category, one that your brand can own and thus define as state of the art. This action delivers a unique opportunity to be No. 1 in a new business segment controlled by the brand. With a bold move like this, an emerging challenger can radically differentiate itself in an otherwise murky "sea of sameness" – in this case, among all-too-similar novel protein brands.
Of course, category creation comes with unique challenges related to pioneering a new idea in the face of consumer behavior that is systemically wired to avoid any perceived risk. Overcoming this consumer-perceived risk isn't as easy as you might think, and that task stands as the primary barrier to mainstream market adoption of anything new and different.
Today we're taking a closer look at an emerging success story in alternative proteins, a Boulder, CO-based animal-free meat maker that has managed to integrate nutrition density with an amazing animal meat taste but without having to resort to "highly processed" formulation wizardry to get there.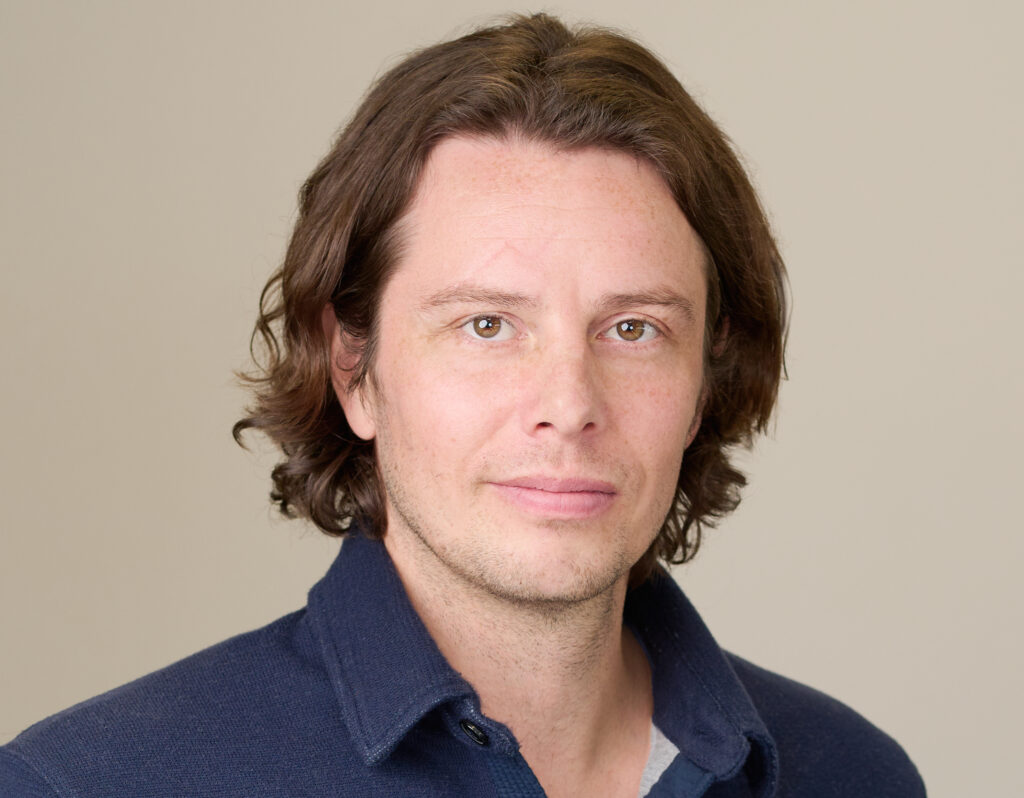 Meati is the brainchild of Tyler Huggins and his team of MushroomRoot™ experts who are on an expansion drive at food retail to bring their muscle meat chicken and beef products to everyone with a taste bud. They're offering a compromise-free meat solution that replicates the animal version, only at a fraction of the environmental and resource consumption impacts of livestock agriculture.
Here is our deep dive interview with Meati founder and CEO, Tyler Huggins. Emergent's brand building guidance follows the Q&A, so stay with us.
How is our legacy food system currently contributing to global warming and what changes must occur to stay within the Paris Climate Agreement ceiling of 1.5˚ Celsius?
Huggins: Stepping back and recognizing the overarching principle that demands greater attention from all of us is crucial. In essence, efficiency is the key to success. We need to strike a better balance between the resources invested in food production and the outcomes of that process.
This principle strongly influenced our business, known as Meati Foods, but legally registered as Emergy – a term denoting the total energy expended in creating something. Our mission is to create significantly more delectable and nutritious food while minimizing resource usage. This approach leads to less strain on our ecosystems and reduces the factors destabilizing them.
How important is sustainability readiness (responsibility) performance to your brand narrative and to consumer preference for Meati?
Huggins: Sustainability is becoming or has already become a normalized expectation for consumers — it is no longer a distinguishing feature or distinct selling point. Still, it is absolutely essential. There are different degrees of sustainability, but the main takeaway is that what we produce and consume to run our societies must use far fewer resources, pollute far less, and regenerate and protect nature's riches. It's the efficiency issue described above. If you cannot demonstrate sustainability, it will be noticed, and you won't be considered if there is another good-enough option that does. Sustainability is table stakes, just as taste, texture, and nutrition are in the food business. We took years to find a type of MushroomRoot™ with natural characteristics that allow a vastly more sustainable way to produce a scalable, delicious, and high-quality source of nutrition that is affordable and easy to work into familiar cooking routines.
Sustainability has transitioned from a unique selling point to a standard expectation among consumers. Nevertheless, it remains absolutely vital. While sustainability can manifest in various degrees, the primary message is that our societal production and consumption must significantly reduce resource usage, pollution, and actively regenerate and safeguard nature's resources. This aligns with the efficiency concept mentioned earlier. Failing to demonstrate sustainability will not go unnoticed, and if there is another viable option that meets the required standards, it will likely be chosen over non-sustainable alternatives. Sustainability has become a fundamental requirement, just like taste, texture, and nutrition are essential in the food industry.
The retrenching of Impossible and Beyond has poured cool water on the 'plant-based meat for meat lovers' hype machine while serving a reality check on brand strengths and weaknesses in alt. proteins. What is Meati doing to secure sustained business traction with consumers that will help avoid these hiccups and convince retailers your new category isn't a one hit wonder?
Huggins: It's important to acknowledge that there was a considerable amount of excitement surrounding Impossible and Beyond, and rightfully so. They were pioneers, turning futuristic visions into a reality in the present. They deserved all the attention they received for leading the conversation about the food system and the environment. Over time, the world has become more accepting of alternative proteins, and the stock value and demand are now stabilizing at more realistic and sustainable levels.
However, the fundamental desires of people have not changed. The current food system exacts a heavy toll on the environment without adequately meeting people's needs, especially with a growing global population. As income levels rise, more individuals crave a meat experience. To become a staple in people's regular diets, our approach has been to fulfill every essential criterion for a successful protein today: deliciousness, check; irresistible texture, check; nutritional value, check; use of simple and natural ingredients, check; significantly more efficient and sustainable, check; convenience and easy integration into familiar cooking techniques, check; and scalability to ensure affordability and accessibility, check.
The time has come for "and/and" products that offer it all, without compromising on any aspect. Our company is built on this philosophy, and we have carefully chosen our star ingredient to achieve precisely that.
For decades people have been taught that meat from animals is always the best source of great tasting protein. Old habits die hard. How are you currently working to convince serial risk-avoiding consumers to switch to Meati?
Huggins: A funny recurring story related to this is that we've heard from our restaurant partners that people who order our cutlets sometimes come back declaring the restaurant made a big error and served them chicken. The point there is that we think the product speaks for itself. Still, you've got to get people in the door and taking that first bite, right? To achieve that, it's a mixture of approaches to reach people at different stages of comfort or interest in animal-free meat made from MushroomRoot. A big part of that mix is enlisting folks whose opinions about food are respected, sought out, and trusted. That can mean we work with famed chefs like Dave Chang reaching millions of people in a video of him cooking with a Classic Cutlet. We may work with lesser-known influencers who have smaller but passionate audiences excited to explore with them. We're also being mindful of collaborating with people and brands that are all about practical, varied, and realistic solutions to eating well for health and the planet.
Flexitarians fit into this category, and they're often great at connecting the animal-based food universe with other types of food. Rachael Ray is a great example. Derek Jeter is another one — here is a star athlete, someone who clearly understands nutrition and performance, who was happy to announce he is investing in Meati.
Consumers now care more about your brand's "why" than either how or what you do. What is Meati's higher purpose, mission and beliefs that transcend the usual mix of balance sheet considerations such as increasing investor returns?
Huggins: As a registered public benefits corporation, Meati has ingrained its commitment to more than just the bottom line into all aspects of our operations. Our mission statement encapsulates our core purpose: To elevate humanity's collective health and longevity through the limitless power of MushroomRoot.
We firmly believe that the world requires innovative and superior solutions that allow us to care for the planet while still indulging in the pleasures of good food and the communal experience it brings. We understand that people genuinely care about the environment, but they often need support from companies like Meati to provide them with accessible tools for making a positive impact in their daily lives. Our aim is to assist individuals in making a difference without entirely upending their meal planning, sourcing, preparation, cooking, and eating habits. We strive to offer convenient and practical options that empower people to contribute to a better future for the planet.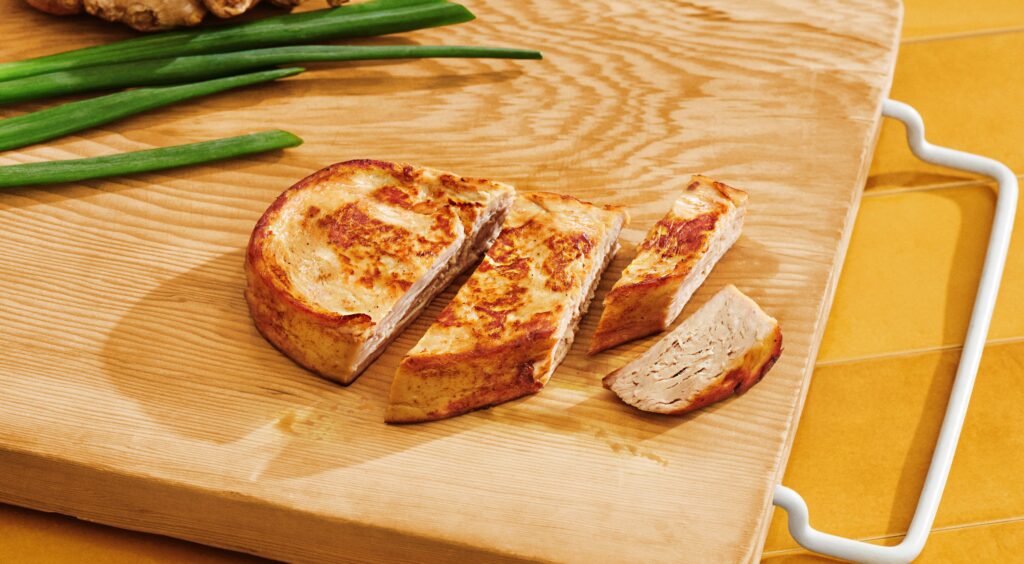 Meati is made from a unique ingredient – MushroomRoot. Please explain your technology and process to deliver an authentic analog eating/taste experience to animal-based beef and chicken products?
Huggins: The beauty of our process lies in its simplicity, which is immensely appealing to consumers who are tired of lengthy ingredient lists and heavily processed foods. It shares similarities with the art of brewing beer or crafting cheese. We start by placing spores of our MushroomRoot (also known as N. crassa mycelium) into a tank along with sugar, water, and nutrients, and then it grows rapidly. Once harvested, we combine it with other wholesome ingredients and gently shape it into our various cuts.
That's about it — all the texture that people love in animal-based options is naturally present in our animal-free MushroomRoot. This is a major reason why we explored various types of mycelium before discovering this incredible one. Its inherent texture sets it apart and ensures an enjoyable culinary experience for our customers.
Is MushroomRoot a farmed ingredient? How do you source this ingredient and how will your supply chain offer an improvement over existing vulnerabilities in supply?
Huggins: Depends on what you mean by farmed! But, yes, we would say it is farmed. All you need are the spores of our type of MushroomRoot, and you can go from there. Once we have the spores, we simply keep regrowing them from a batch of MushroomRoot and reusing them. Picking them up is as simple as finding a provider of all types of spores or tracking it down in the wild, but we're well past needing to do that. We grow and prepare it completely in-house, which does indeed make our supply chain less complex — we need only our MushroomRoot spores, sugar, water, nutrients, energy, a modest amount of other ingredients like natural flavors, a tiny slice of land to house everything, and the equipment similar to what you might see in a beer brewing facility. We don't need to rely on external partners halfway around the globe to prep critical components of our products.
To boot, we can do all this indoors — we're not beholden to radical weather shifts impacting our growing cycles. If we're facing any issues in the supply chain, they're low in quantity and of a generic quality — they are issues common to all types of companies operating in a post-COVID world. When it comes to the supply chain issues that may affect the few ingredients, we do use outside our own MushroomRoot, we also have a lot of confidence in getting a hold of them, because we've aimed to work with experienced suppliers in extremely developed industries who are as near to us as possible. We always knew achieving supply chain simplicity would be essential in a more chaotic world, and the simplicity of our MushroomRoot also helps us realize this goal.
No offense intended towards farmers, but we proudly identify ourselves as ranchers. Our process starts with a mere spoonful of spores, and from there, we nurture and cultivate our MushroomRoot, creating the perfect conditions for it to flourish and yield a variety of nutrients, including protein. All of this takes place within our specially designed "Mega Ranch," a name befitting one of North America's largest end-to-end meat production facilities.
One of the remarkable aspects of our approach is that we don't need to rely on distant external partners for crucial components of our products. Everything happens under one roof. This indoor setup provides us with stability, unaffected by radical weather shifts that could otherwise disrupt growing cycles.
By streamlining our supply chain and partnering with a select few experienced suppliers from well-established industries, located as close to us as possible, we have achieved significant simplicity. We have always recognized the importance of simplifying our supply chain, especially in an increasingly chaotic world. Our MushroomRoot's inherent simplicity plays a vital role in realizing this essential goal.
Meati is in-market and rapidly expanding. What key learnings can other alt. protein brands take away from Meati to accelerate the commercialization of their businesses?
Huggins: To succeed, you must showcase sustainability and a genuine dedication to safeguarding the environment. However, it's equally vital to satisfy consumers' valid expectations concerning taste, texture, nutrition, price, availability, convenience, and culinary versatility. Food holds a deeply personal place in everyone's daily life—it's both ordinary and sacred. When we select and savor our meals, it's only natural to momentarily set aside broader concerns and concentrate on the individual sensory pleasures and experiences that elicit the heartfelt declaration, "I love this food."
Our primary goal is for everyone to express this sentiment when they try our food. We aim to provide an unforgettable culinary experience that captures people's hearts and taste buds while reassuring them that they are contributing positively to the planet in the process. Balancing these aspects is what drives our mission—to create food that brings joy to people's lives while also caring for our precious environment.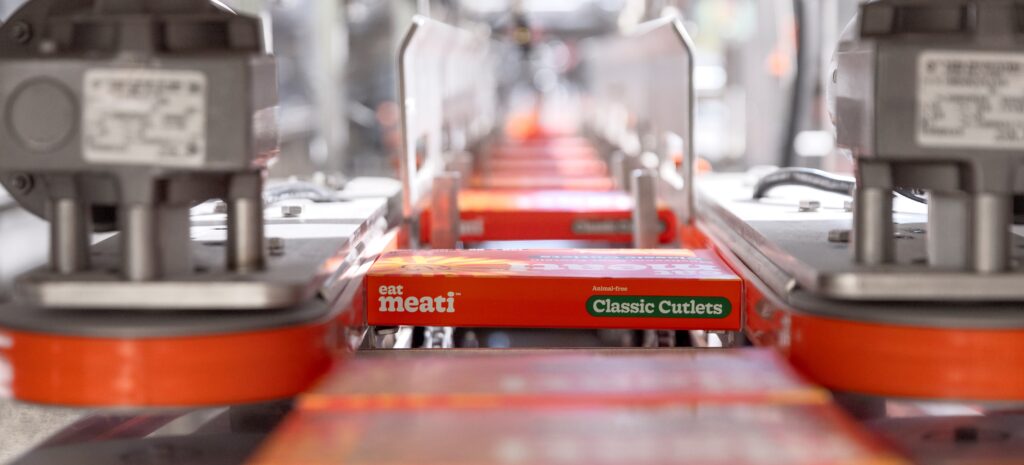 One of the biggest challenges alt. protein companies have on the path to market is scaling their production. What advice would you offer to others coming up as the best and most efficient path to manufacturing at sufficient scale to supply demand? At what level of production do you reach price parity with the products Meati replaces?
Huggins: First, our goal is not so much to 100% replace this or that product, but to offer another option that people can work into their diets that makes it easy to adjust mealtimes to be better for the planet without sacrificing joy. People love animal-based meat and will continue to do so, but it does come with immense costs that we may start seeing very clearly present in its price, so it's important to have another option to scratch that "meat experience" itch that does not feel like a compromise. Other than that, my general advice would be: Pick your ingredients carefully! We spent years researching different types of mycelium looking for one that naturally possessed all the characteristics of a great and sustainable food and scalable food.
We are already reaching price parity with certain cuts of organic and super high-quality animal-based meat. We're confident that as we ramp up to millions of pounds of Meati, we'll start to see exciting shifts in the price. At the same time, again, it is very likely the price of animal-based meat will start to rise in the face of supply chain chaos, health emergencies, weather patterns, and reduced externalization of environmental costs.
What three things should consumers know about Meati that will influence them to give it a try?
Huggins: Delicious with the just-right texture, easy to cook with, and nutrition like you wouldn't believe.
The next chapter in food has arrived
Meati is an iconic example of the future of food – new processes that help us reimagine where food comes from and how it is produced. The changes we're witnessing are the most pervasive and fundamental to how we feed ourselves, since the domestication of plants and animals 10,000 years ago.
With the dawn of a new food system and the entrance of a host of new brands creating various forms of protein using fermentation techniques, cultured solutions and evolutionary improvements to plant-based version, come unique challenges to securing marketplace traction.
Even today, in the ramp up phase for many new brands, the storytelling, value propositions and brand imagery are remarkably similar business to business. Sameness is a calcifying phenomenon that works hard to commodify brands. Distinctiveness is necessary and harder to achieve because it requires an intentional push towards radical differentiation.
The great lesson embodied in Tyler Huggins' organization is the effort to establish a new category that is unique to the Meati brand. Consumers always think category first and brand second – like Mexican beer and then Corona. Category ownership is a power position and enabler of competitive advantage. Retaining the edge and distinctiveness over time isn't easy – it requires constant attention and occasional refurbishment to stay ahead of those who will
rush to mimic your success. Being first with the most is an incredible advantage.
The coming revolution of new food brands and categories, all competing for share of mind, stomach, wallet, shelf space and devotion will elevate the premium for sound strategy, well-executed.
Here are some fundamentals to stay ahead of the pack:
Refined higher purpose
You would think that new tech food brands would be the industry darlings of mission and higher purpose thinking, yet all-too-often we find that isn't the case. A quick pass on a change-the-world origin/founder story may appear to be checking the higher purpose box. However, building a sound mission, values and belief system for a brand requires more work and a defined process to thoroughly vet the details of a relevant and resonant purpose-driven platform. Posers not allowed.
Inspiration and education, not manipulation
The path to engagement between brands and consumers is paved with recognition that consumers (and trade customers for that matter) are human beings and biology is at work in how we make decisions and take action. People are not fact-based, analytical decision-making machines. We are feeling creatures who think and not thinking creatures who feel.
Thus why a brand's "why" – its purpose and deeper meaning served with a honed beliefs system – is the path to inspirational, emotion-resonant communication. Emotion drives decisions and actions, not feature and benefit selling. This rightfully places insight to behavioral psychology in the center of strategic planning.
Education, coaching, guidance are the tools and role brands play in successful communication – the consumer is always the hero of our storytelling. Inspiration not manipulation is the path to building a community of brand advocates and evangelists. Want to have a deeper relationship with consumers, then imbue your brand with deeper meaning.
Symbols, symbols everywhere
Consumers now look upon the brands that matter to them as flags and symbols of who they are, what they value. Is your brand communication intentionally designed to help them signal to the world around them the meaning you bring and thus amplifying how they see themselves?
Your brand communication and digital channels need to supply the symbolism they want to convey. This is intentional and designed to help them "feel" a certain way when they are in the presence of your brand.
The path ahead
Tyler Huggins and his team are working on the next generation of food products that deliver on taste and nutrition but at a fraction of the environmental and natural resource impact of conventionally made foods. This is how we will affordably feed 10 billion souls by 2050, and without further damaging the planet we call home. The great news: we can accomplish this mission while amplifying and enhancing our love of great taste and elevated eating experiences. If this story raises questions about the right mix of strategic tools to breakout from the sea of brand sameness, use this link to ask questions and start an informal conversation.
Looking for more food for thought? Subscribe to the Emerging Trends Report.
Bob Wheatley is the CEO of Chicago-based Emergent, The Healthy Living Agency. Traditional brand marketing often sidesteps more human qualities that can help consumers form an emotional bond. Yet brands yearn for authentic engagement, trust and a lasting relationship with their customers. Emergent helps brands erase ineffective self-promotion and replace it with clarity, honesty and deeper meaning in their customer relationships and communication. For more information, contact [email protected] and follow on Twitter @BobWheatley.