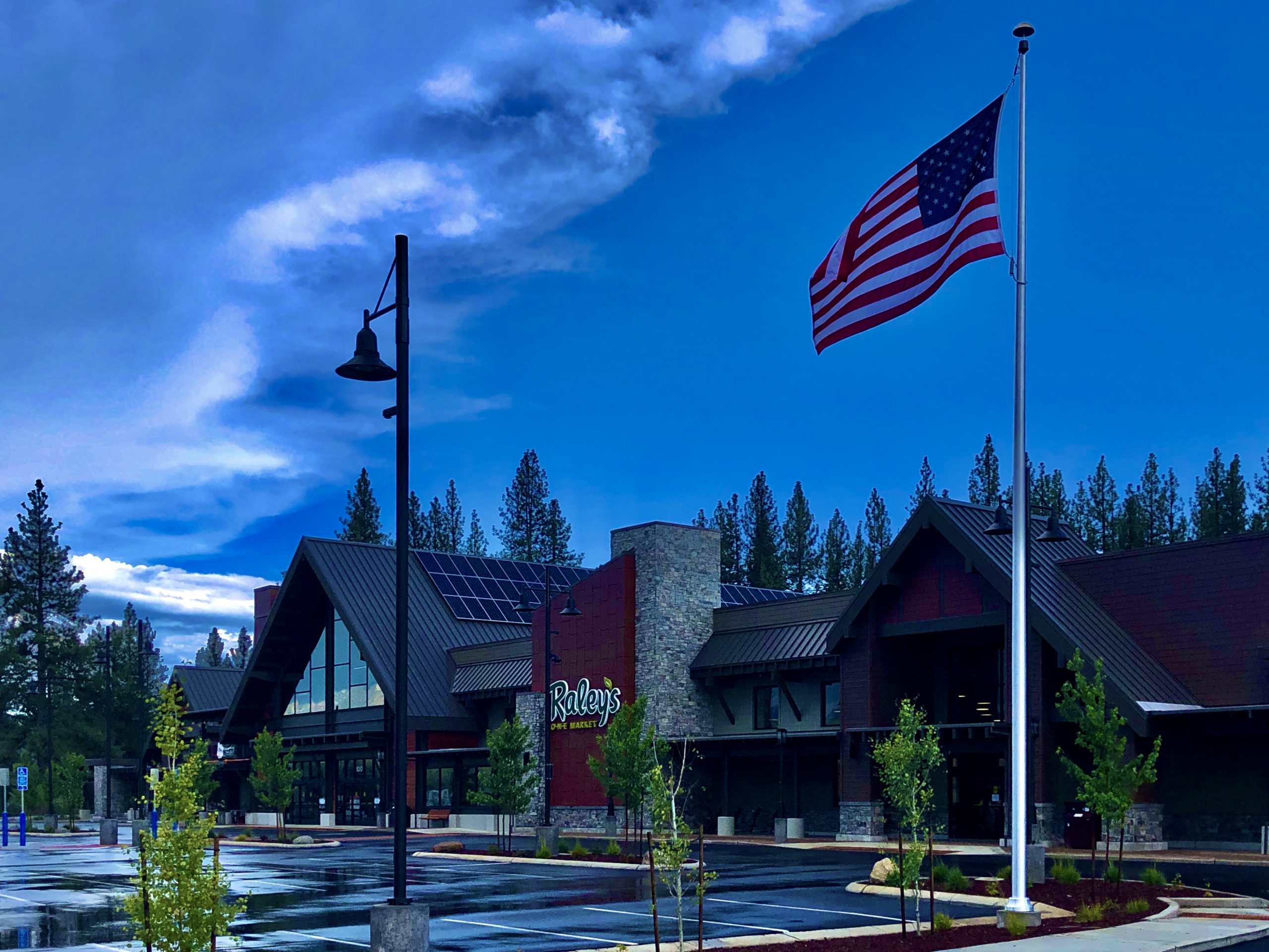 August 13th, 2020
Posted by Emergent
brand marketing, brand strategy, Consumer insight, Culinary lifestyle, food experiences, food retail strategy, Healthy lifestyle, Healthy Living, Higher Purpose, Marketing Strategy, Retail brand building, retail brand relevance, shopper experience, Supermarket strategy
0 comments on "Imagine a Grocery Store Built on Higher Purpose"
Food Retail Innovation Now in Truckee, CA
Raley's, the family-owned Sacramento-based supermarket company, recently launched a new grocery store concept they envision as a model of how food retail should evolve to build consumer relevance. Located in picturesque Truckee, California, just outside Lake Tahoe, the trading area is populated with families devoted to an active, outdoor lifestyle.
Raley's designed the store concept with Truckee's active families in mind – visualizing a supermarket focused entirely on healthy living. The Raley's O-N-E Market banner (Organics, Nutrition, Education) is a four-walled, 36,000 square foot better-for-you food discovery zone. Designed for people who understand there may be a direct link between what you eat and the quality of your life, the concept mirrors their desire to seek out better choices, explore a more mindful selection of products, and learn about improved nutrition. Remarkably, it is a food store that embodies owner Michael Teel's higher purpose mantra to "change the way the world eats one plate at a time."
"We have been on a journey for health and wellness, and Raley's O-N-E Market is the next step in our company's transformation," said Chelsea Minor, Raley's Corporate Director of Public Affairs. "Raley's O-N-E Market offers a highly-curated assortment of products that are organic where possible, wholesome, minimally processed, sustainably sourced and offers a stage for nutrition education. We want consumers to understand why these products were selected for our shelves and why they are better options for them and the community," she said.
Who is really in charge, merchant or customer?
For the most part grocery stores operate in reverse from consumer lifestyle insight. The shopping design and experience is most often built from the merchant's business model intended to move boxes, cans and bags off shelves at velocity. Thus, in many ways, grocery stores are entirely recognize-able banner to banner with merchandise schemes and traffic flow patterns that follow a commoditized approach to assortment and shopping experience.
Which begs the question: what if a store format is re-imagined as a reflection of the lifestyle interests of its core customers, instead of the other way around? "The biggest differentiator is our product mix. We emphasize foods 'free from' artificial ingredients, colors, high fructose corn syrup, hydrogenated fats and oils and more. We source organic where possible – in produce over 60% of the department is organic to meet consistently high standards for health, nutrition and sustainability," reports Minor.
As evidence of that commitment Minor says shoppers will not find any conventional soft drink products inside the store. Indeed, sugar awareness is a priority at Raley's O-N-E Market. Any cereal containing more than 25% of its total calories from added sugar per serving is identified with a 'Higher in Added Sugar' shelf tag. Other categories getting the sugar evaluation include Ready-to-Drink (RTD) beverages, pasta sauces, baby food, protein bars and condiments like BBQ sauce and ketchup.
To help consumers make better decisions while shopping, digital screens in the front of the store rotate messages by department providing information on healthier choices. Foodservice areas use window clings and the menu board to help convey this useful information. Better-for-you guidance is also provided in price rails at the shelf to help shoppers make informed purchase decisions.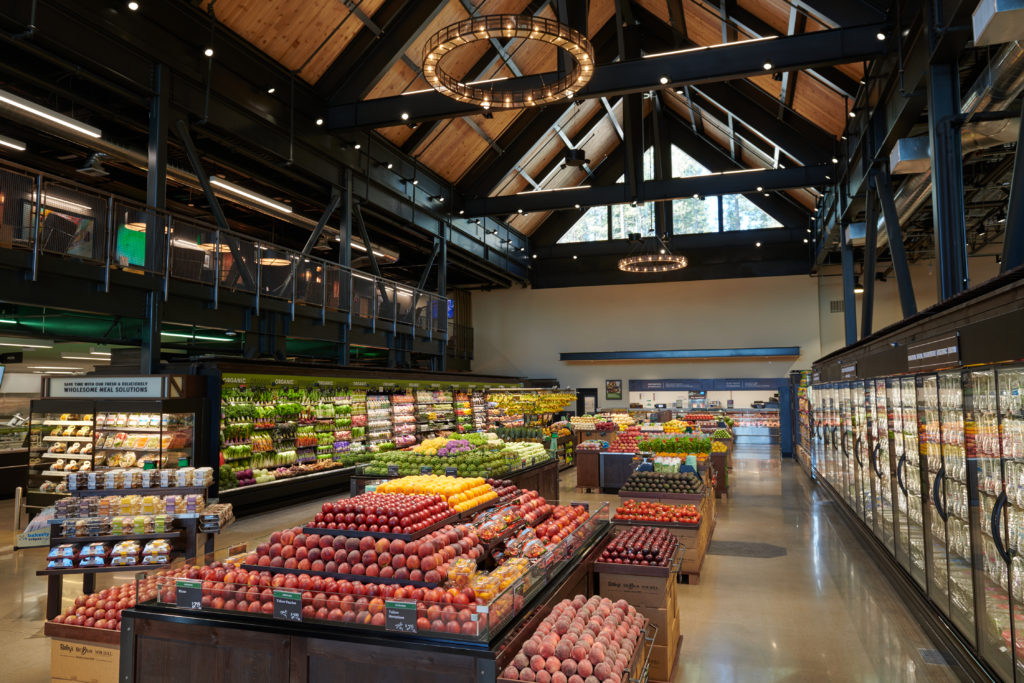 Retailer as life partner on journey to healthier lifestyle
Raley's believes the consumer should be equipped to shop with better information and guidance. In an effort to help them realize their healthy living ambitions, the product options they'll encounter already lean heavily in that direction. In the high traffic meat department, attributes such as organic or anti-biotic free are flagged within an assortment that's already curated with healthier and higher quality choices in mind.
To help fulfill the Education mission, the Truckee Raley's O-N-E Market is their first store to have a registered dietitian on-site to interact and coach consumers. Scott Brown, Raley's first in-store registered dietitian nutritionist (RDN), is there to conduct nutrition tours, provide one-on-one healthy living consults and answer customer questions. Raley's customer loyalty platform also gets a twist in Truckee: the "Something Extra Health" program offers biometric screenings, classes and in the future will feature vendor presentations.
"Shoppers these days want to know more and are faced with an increasingly confusing environment around navigating claims like 'natural' and 'plant based,'" said Minor. "We feel we have a responsibility to help explain and clarify what best practices look like in making food choices. Our role as retailer is to help them on their healthy living journey by operating as guide and coach."
The future of food retail?
Most satisfying in our conversations with Minor and others at Raley's was their sense of commitment and passion about what "changing the way the world eats one plate at a time" truly means and how that plays out when you're inside the front door. The position Raley's O-N-E Market takes is active not passive, expressing leadership rather than go figure it out for yourself.
No one is going to beat Amazon on friction-free e-commerce, or Walmart on lower price. We have ample evidence that the middle market in grocery retail is a tough place to do business when the value proposition is based on location (getting weaker to defend) or all-things-to-all-people assortment (not a real strength anymore).
We believe the platform of highly differentiated and focused concept – especially in the Health & Wellness space – gives consumers an experience and another reason to shop brick and mortar. This is critical to food retail success and means leaning in fully to a commitment that places the customer at the center of strategic planning.
This insight must be informed by a crystal-clear higher purpose that translates into on-the-ground strategic decisions which defines and manifests in every aspect of store operation.
Human beings are emotional creatures. People are not fact-based analytical decision-making machines. We know the human sub-conscious plays a far more important role in helping guide actions and decisions than the cognitive side, yet most retailers operate on the "rational" channel.
When it's heart-over-head, the grocery store shopping experience is enhanced by strategies that acknowledge our deep love affair with food, interesting culinary experiences and the prevailing desire for a healthy lifestyle.
Disney knows how to create the magic in their kingdom. Imagine a food store with the same heart and passion for food experience and how that could play out in a store setting.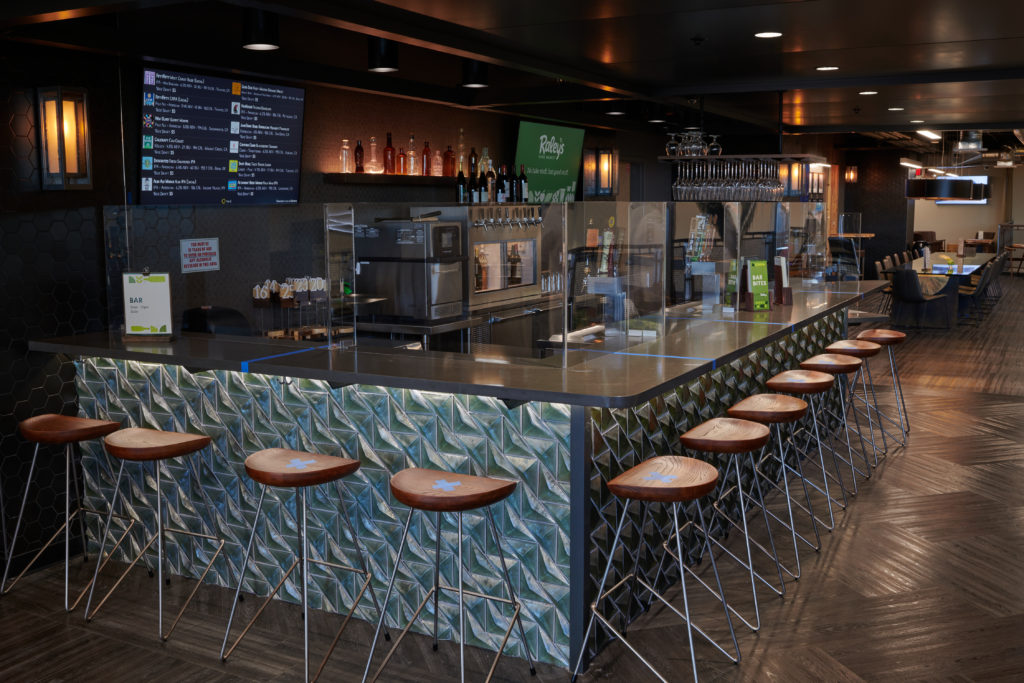 Raley's recognizes the growing importance of grocery foodservice experiences especially at a time when going to restaurants is less desirable. Yet the magic of environment and ambiance are no less important here than at the corner bistro. "Raley's O-N-E Market includes McKinney Loft – a tribute to Steve McKinney, skier, mountaineer and local icon. The loft features plenty of seating, a beer and wine bar, bar bites, and an outdoor fireplace and large TV screens," explains Minor.
At the crux of Raley's likely success with Raley's O-N-E Market is its higher purpose. This is harder to define correctly and to optimize fully. For that reason, Emergent has built a four-step plan to guide higher purpose development. You can download a copy here.
If would like to discuss this in the context of your business and its future, please use this link to start a conversation.
For more food trends, consumer insight and communications strategy follow us on Twitter @EmergentLiving.
Looking for more food for thought? Subscribe to the Emerging Trends Report.
Bob Wheatley is the CEO of Chicago-based Emergent, The Healthy Living Agency. Traditional brand marketing often sidesteps more human qualities that can help consumers form an emotional bond. Yet brands yearn for authentic engagement, trust and a lasting relationship with their customers. Previously Bob was Founder and CEO of Wheatley & Timmons; Founder and President of Wheatley Blair; President Ogilvy & Mather PR Chicago; President and COO Ogilvy & Mather West. For more information, contact [email protected] and follow on Twitter @BobWheatley.