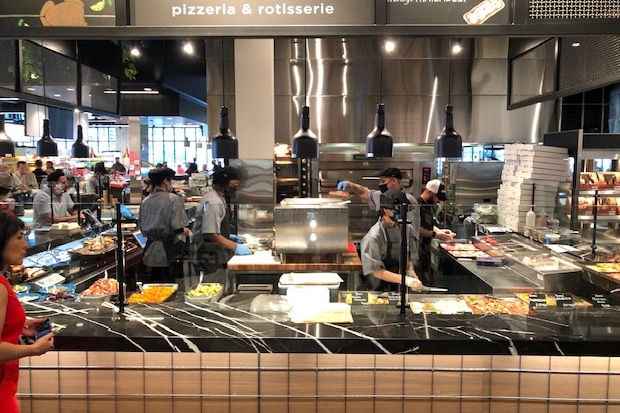 June 16th, 2021
Posted by Emergent
Brand Design, brand strategy, Category Design, Culinary inspiration, Culinary lifestyle, Emerging brands, food experiences, food retail strategy, Food service, Indulgent brand strategy, Retail brand building, retail brand relevance, shopper experience, storytelling, Supermarket strategy
0 comments on "Dom's Kitchen & Market – the Future of Food Retail"
Food retail dream team brings shoppers some "wow!"
The world does not need another conventional grocery store. There are plenty of them offering similar, somewhat rote and unremarkable shopping experiences and product assortments. One to another they defy uniqueness and differentiation. Food retail legend Bob Mariano and his long-time partner Don Fitzgerald teamed with DOM Capital Group owner Jay Owen to reinvent the Chicago food retail landscape. Again.
The food retailing industry has long admired Bob Mariano's penchant for innovation when his namesake Mariano's chain emerged in 2010 as a refreshingly-elevated concept in the Chicago area grocery game. Mariano, who described his new retail banner as "the first time I've had the opportunity in my career to invent a retail concept from a blank sheet of paper," deftly integrated foodservice experiences with a decided heavy lean into an improved fresh and perishable food assortment and tasting station-oriented shopping experience.
After selling the Roundy's parent company in 2015 to Kroger, Bob Mariano departed the Chicago retail scene for a while, apparently to go think creatively about where the food retail innovation ball should roll next.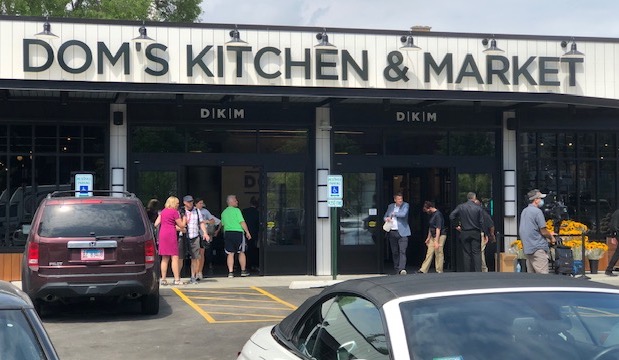 Now Dom's Kitchen & Market arrives in Chicago's Lincoln Park neighborhood as a 17,800 square foot, tightly edited and curated deep dive into food adventure. It is shopping as entertainment with a big helping of culinary inspiration and a side order of education for erstwhile home chefs. "For the most part grocery shopping is functional and stock-up driven," said CEO Don Fitzgerald, "Our new concept is built around what we can do to deliver food discovery, experiences, culinary exploration and maybe learning a thing or two for people who love food."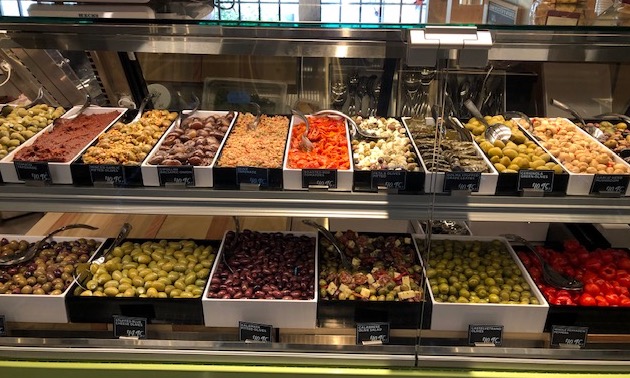 Dom's is first and foremost a food destination. As you walk in, guests see a hybrid of multi-faceted food service options featuring top quality menus ranging from "The Stackup" for elevated sandwiches, "The Hearth" if you feel like outsourcing cooking chores for dinner and "Gohan" to sample Asian specialties like Yuzu Salmon and Katsu Sando. Nearby is "The Plant Butcher" station for creative salads and yes, butchering veggies to customer specs.
"We are not a replacement for traditional grocery," Fitzgerald reports. "Our core shopper is really someone who has a passion for food, who is interested in taste experiences, wants to explore new cuisines, learn and has high standards about the quality of the ingredients they use." He said he expects people will come to Dom's for a quality sandwich and sip a glass of their favorite wine, all while ordering paper towels and dishwasher soap from Amazon on their phone.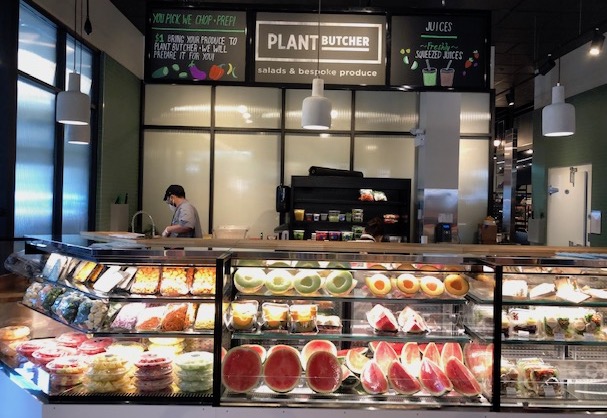 "You're coming to Dom's for lunch or picking up dinner. You are doing your perishable shopping here for high quality produce, bakery and meat. We also expect to serve events and occasions like an anniversary, job promotion, graduation, birthday with wine and cheese or a Bonci pizza," says Fitzgerald.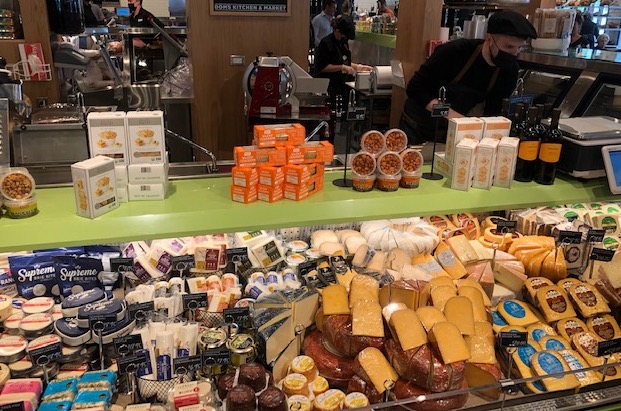 The center store is a curated assortment of higher-quality packaged foods, some of them hyper local as evidenced by plans to feature endcap displays of new and emerging food brands born at The Hatchery, Chicago's food incubator and laboratory for aspiring entrepreneurs.
On opening day a power aisle end cap featured Dom's specialty coffee. It was a fan of the cards toward their plans to develop a deeper offering in private label products that will build the Dom's brand, thus helping the company more fully express its core culinary mission.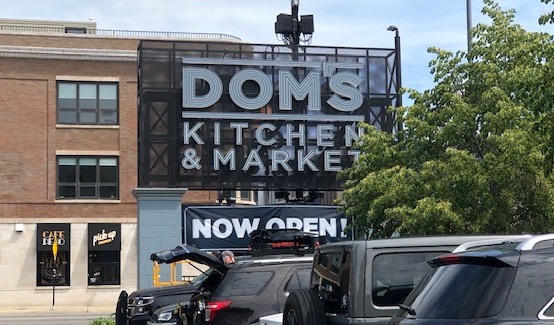 Think big
If history is any indicator, the Dom's executive team has no small plans and will be working to add new locations around the city and eventually beyond Chicago. "Dom's is very much a neighborhood concept, a smaller retail footprint where the decisions we make about what's on shelf are extremely important," said Fitzgerald. "While we have a template certainly, each Dom's location will be a mirror of the community where it resides, and the assortment decisions will reflect what we think shoppers in the trading area will want."
Fitzgerald says they eschew the typical food retail business model dependent on large cap CPG promotional spending. "We won't be relying heavily on price promotions to deliver volume. That's not our business. Our goal is to earn loyalty based on the strength of our unique shopping experience." That shopping experience is best represented in "The Chef's Table", a presentation area where visiting celebrity chefs will come to conduct classes on menu ideas and food preparation techniques. "We just had a session on how to properly cook a steak and I learned I've been doing it wrong my entire life," he said. "Teaching will be core to our concept."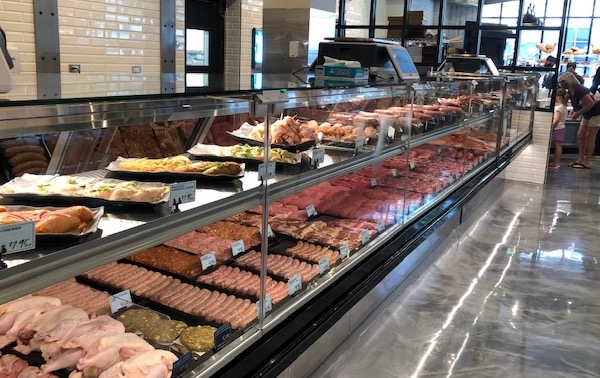 For that matter meat is yet another example of stepping up a notch. Dom's is sourcing its fresh meat from the same supplier that serves Gibson's restaurant, one of Chicago's most respected and beloved steakhouses.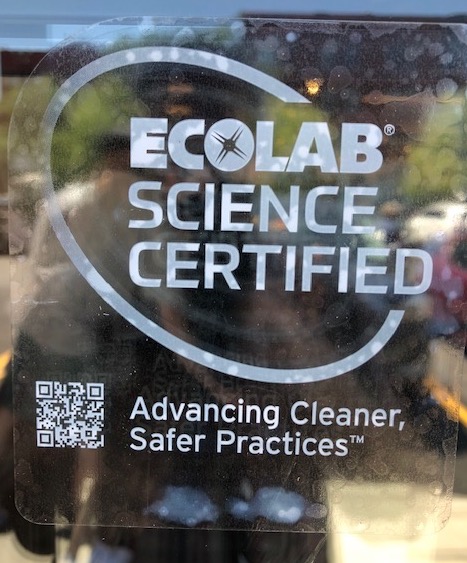 Safety first
Dom's is the first EcoLab Science Certified food retailer in the state of Illinois. EcoLab is servicing Dom's with training, sanitation materials and best practices guidance. Dom's will be audited for compliance to EcoLab's industry-leading standards of cleanliness. "We want to be the safest, healthiest place to shop and embed that commitment in our culture from day one," said Fitzgerald.
"When our shoppers leave here, we hope they say, 'Wow. That was special. That was fun. This was worth my time,'" he said.
If opening week crowds are any measure, people are resonating to Dom's food shopping-as-entertainment concept, a truly unique addition to the Chicago area's food retailing landscape.
Looking for more food for thought? Subscribe to the Emerging Trends Report.
Bob Wheatley is the CEO of Chicago-based Emergent, The Healthy Living Agency. Traditional brand marketing often sidesteps more human qualities that can help consumers form an emotional bond. Yet brands yearn for authentic engagement, trust and a lasting relationship with their customers. Emergent helps brands erase ineffective self-promotion and replace it with clarity, honesty and deeper meaning in their customer relationships and communication. For more information, contact [email protected] and follow on Twitter @BobWheatley.