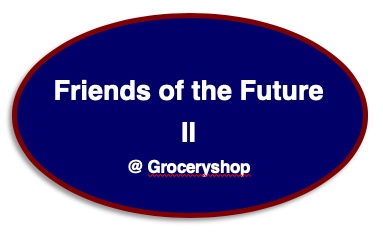 September 23rd, 2019
Posted by Emergent
Agency Services, CMO, Digital marketing, digital tools, e-commerce, food retail strategy, grocery e-commerce, Supermarket strategy
0 comments on "Friends of the Future Delivers On Its Premise"
The hot ticket networking experience at Groceryshop
In a food industry now preoccupied with algorithms and digital platforms, it's remarkable when reminded that personal, human connections still inform the beginning of most successful business relationships.
Nowhere was that shown in greater relief than on Monday night at the recent Groceryshop convention. An "A" list of food retail executives gathered at the sold-out Friends of the Future reception to network with key industry players – many of whom are working feverishly to help solve the transformational changes now unfolding in the food and beverage world.
Groceryshop has firmly established itself as the leading food industry conference centered on the digital race to answer upheaval in how families select and shop for food. No surprise much of the conference agenda in 2019 showcased emerging technologies in e-commerce, food delivery, digital marketing, supply chain management and robotics.
Yet the Friends event served as a potent reminder that business, whether between advisers and suppliers in the food business, or with consumers themselves, is driven by the high-touch resonance of conversations between people.
"Friends is exactly that, an opportunity to truly connect on a personal level and get better acquainted. It's in the moment when we talk and look each other in the eye that we find common ground, mutual interest, and most of all trust," said Bill Kies, President of Kies Consulting and executive producer of the Friends of the Future event.
In its second season, Friends of the Future promised an informal atmosphere of exceptional food and beverage as grist to facilitate relationship building between food retail business leaders and decision makers. No other agenda except sharing experiences and ideas.
The event's top sponsors including Accenture, Nielsen, Inmar and Shipt, helped press the call to action, with 250 executives gathering at The Venetian's Yardbird restaurant, closed down to accommodate the crowd. Nearly 40 food retail companies were represented, evidence of an industry in transition while facing the rise of e-commerce challenges and new competition from the ascending restaurant food delivery business. Other event sponsors included Planalytics, ShopperKit, Label Insight, FlyBuy and the Food Marketing Institute.
"It was an amazing evening," Kies reported, "friendships were initiated, and solutions explored among retailers looking to navigate an increasingly complex business environment." Kies promised a return for Goceryshop in 2020 with an added dimension: the event will expand to include CPG food executives alongside the legacy list of food retail leaders.
For more information contact Bill Kies – [email protected]
Looking for more food for thought? Subscribe to our blog.
Bob Wheatley is the CEO of Chicago-based Emergent, the healthy living agency. Emergent provides integrated brand strategy, communications and insight solutions to national food, beverage, home and lifestyle companies. Emergent's unique and proprietary transformation and growth focus helps organizations navigate, engage and leverage consumers' desire for higher quality, healthier product or service experiences that mirror their desire for higher quality lifestyles. For more information, contact [email protected] and follow on Twitter @BobWheatley.