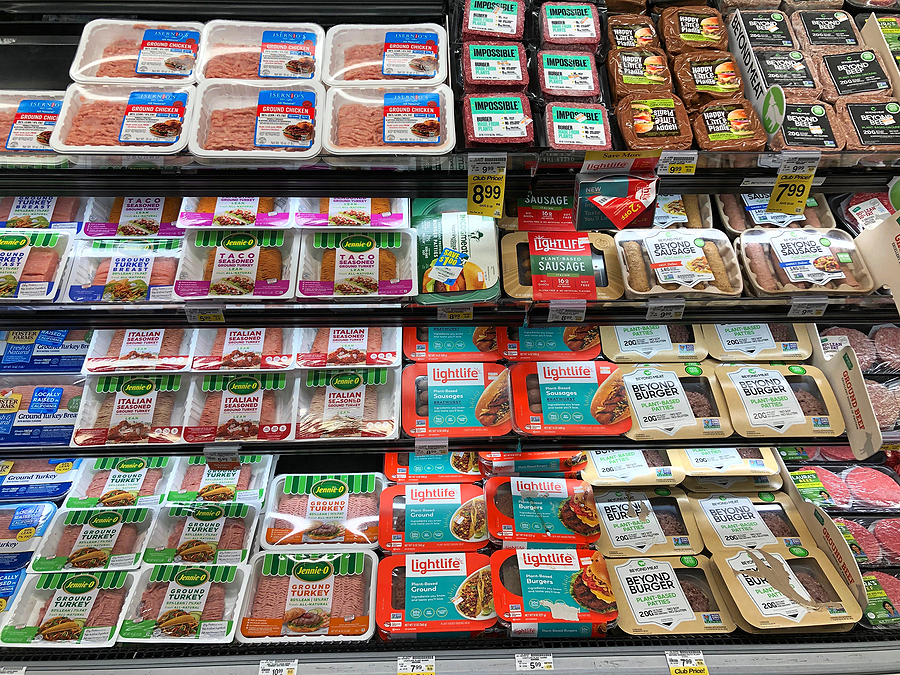 July 26th, 2021
Posted by Emergent
Brand Activism, brand advocacy, brand messaging, brand strategy, Brand trust, Carbon footprint, Climatarian, Climate Change, climate culture, Consumer insight, Greenhouse Gas, Greenwashing, Sustainability
0 comments on "Food System Report Reveals Hidden Environmental Impact"
Costs of climate threat are growing
A new study released by the Rockefeller Foundation reports $900 billion annually in added costs to the U.S. food system from agriculture derived greenhouse gas (GHG) and biodiversity losses as a result of land use transformation, animal grazing impacts and nitrogen pollution.
One major source of environmental impact is the 10 billion farm animals we harvest each year for food and the related damage from methane, water depletion and soil erosion from crops raised to feed livestock.
The U.S. has the most affordable, abundant food supply on earth requiring only about 5% of disposable income from families. According to the Rockefeller report, Americans spend approximately $1.1 trillion on food each year. However, that figure doesn't take into account the unintended consequences of a food system that in many respects works against planet health and also the wellbeing of people when you consider the accelerated growth rates in obesity, diabetes and heart disease.
Time for a reality check as we talk about the future of food
Our current food system is designed to deliver three things consistently:
Volume of food
Safety from food-borne illnesses
Inexpensive calories
However, we need a food system that is also aligned to help protect the environment and support human health.
An encouraging promise about the future of food is now emerging as vast sums of investment capital race to support the development of new food technologies. From 2015 to 2020 more than $4 billion has been invested in alt. protein technologies. These new food solutions may help reduce climate threat while offering a healthier nutritional profile for cleaner proteins in center-of-plate dishes.
How we eat, what we eat and where food comes is changing
Advancements in bioengineering have authored a tsunami of new food tech businesses pioneering ways to create foods that are not dependent on legacy ingredient supply chains. What's coming is more food made from cultures, microbes and fermentation technologies.
Will consumers suddenly stop eating animal meat? Not likely. That said will substantial transfers of market share move to these new products not linked to a cow, lamb, pig or chicken? Highly likely; assuming the eating experience and taste hit the mark as an analog to the conventional version. Equally so for non-fish seafood.
Plant-based offers a hint at the transformation
According to Statista, total sales of plant-based meat and dairy products in 2020 reached an astounding $7 billion; of which 'dairy-free dairy' led the pack at $2.5 billion in sales of soy, almond, pea, rice and oat milks. An entire generation of milk users is growing up with a different definition of what milk is and how it tastes.
Plant-based meat, the fastest growing segment, hit stride at $1.4 billion in sales volume. That's a whopping 45.3% jump over 2019 sales results. With new plant-based chicken nugget brands now simultaneously launching in food service channels, the likelihood of more trial and retail movement for non-meat meats is nearly a foregone conclusion. Equally impressive is the surge in plant-based cheese products, up 42.5% over 2019 to $270 million in sales.
The plant-based meat takeover has been quick. The trends suggest a potentially rapid uptake on the proposition for foods perceived to be healthier (less saturated fat than animal meat) and less taxing on the environment.
Industrial agriculture and meat production produce 24% of total greenhouse gases, the second leading contributor to climate threat behind fossil fuels. Meat production alone accounts for 65%of the world's nitrous oxide, a gas with a global-warming impact 296 times greater per pound than carbon dioxide. What's more, total emissions from agriculture are forecasted to increase 80% by 2050due to a significant growth in demand for meat and dairy products.
The development of new food solutions is really a higher-stakes proposition. Climate friendlier food tech may indeed help tamp down the surge in global warming that spawns wildfires, droughts, superstorms and other weather anomalies. An unprecedented 115-degree heat wave in the Pacific Northwest came dangerously close to upending the regions' agricultural eco-system.
Eating our way into climate chaos?
What happens when consumers begin to see there's a relationship between food choices and climate impacts? Consumer attitudes and behaviors have shifted in recent years to focus on issues and more values-based considerations. Purchase behavior has already swung from a historic focus on taste, price and convenience to new concerns about transparency and visibility to the supply chain alongside the number one consumer issue, health and wellness.
The food industry will be obligated to pay attention to these transformational changes and look more fully at climate readiness, sustainability policies and commitments.
Questions food and beverage companies must address:
What is the true carbon footprint of products, taking into consideration all aspects of supply chain and manufacturing?
How does this trickle down to hidden costs in bio-diversity impacts such as land use disruption, over-consumption of water resources (it takes 1,500 gallons of water to produce one 16 oz. steak) and harmful farming practices that destroy the ability of cropland to sequester carbon in the soil.
How will companies verify and validate their sustainability policies and commitments in a transparent and trustworthy way?
What aspects of sustainability performance and outcomes do core customers care about the most?
How should sustainability bona fides best be conveyed to a company's key audiences and stakeholders?
For our part, Emergent sees a food culture transformation on the horizon that will change what consumers believe about where food should come from, how it is made and what they should buy.
To help companies better assess and explore the right path to sustainable practices and climate readiness, we have created the Brand Sustainability Solution report as a guide to the key issues and direction on strategies to solve.
You can download your complimentary copy here.
To secure a snapshot of where your climate sustainability readiness stands today, take the five-minute free Brand Sustainability Readiness survey here.
Looking for more food for thought? Subscribe to the Emerging Trends Report.
Bob Wheatley is the CEO of Chicago-based Emergent, The Healthy Living Agency. Traditional brand marketing often sidesteps more human qualities that can help consumers form an emotional bond. Yet brands yearn for authentic engagement, trust and a lasting relationship with their customers. Emergent helps brands erase ineffective self-promotion and replace it with clarity, honesty and deeper meaning in their customer relationships and communication. For more information, contact [email protected] and follow on Twitter @BobWheatley.