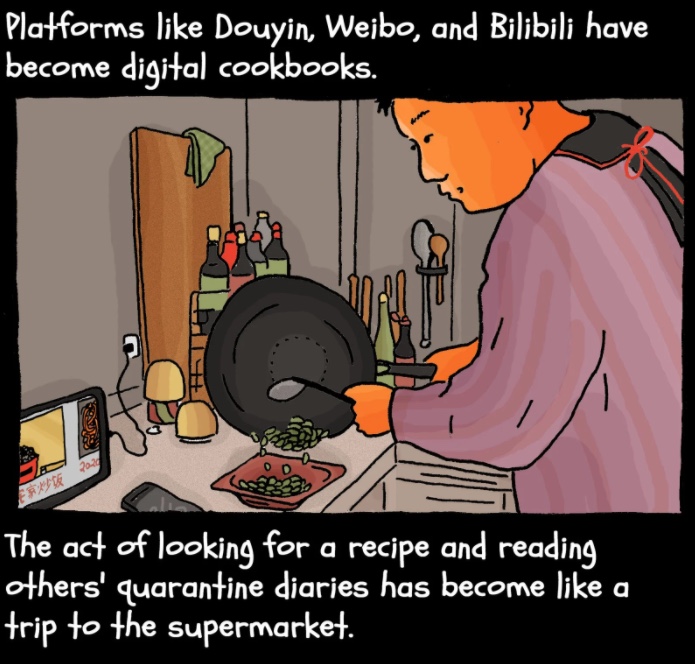 March 5th, 2020
Posted by Emergent
consumer behavior, Consumer insight, Culinary lifestyle, e-commerce, food retail strategy, grocery e-commerce, retail brand relevance, shopper behavior, Supermarket strategy, Uncategorized
0 comments on "Food Retail and CPG Alert: Coronavirus Spawns Opportunity"
Being relevant and valued in the moment of need
The New Yorker published a story chronicling China's historic crackdown on the movement of people in public places in an effort to control spread of the virus. An interesting outcome is that home (quarantine) cooking is on a rapid rise especially among younger Chinese consumers who previously were much more likely to outsource their meals.
As massive numbers of people must stay home, turn on the stove and make their own food, popular Chinese social channels such as Douyin and Weibo are turning into online quarantine-driven cookbooks with recipes, journals and menu suggestions. Home grocery delivery is equally impacted. People are ordering the ingredients used that will help hone their cooking skills while they also discover the benefits of greater control over flavors, ingredients and preparations.
This event has disrupted normal food consumption habits and required many with limited cooking skills to seek support, inspiration, comradery and cooking tips to weather this lifestyle altering storm. This may have long-lasting impacts on food making and buying behaviors.
Home and hearth offer stability in an uncertain world
We've written before about the skyrocketing growth in online ordering through delivery apps like GrubHub and Doordash. This growth is connected to the consumer's desire for convenience but driven in part by a sense of greater safety and control at home in a world that appears to grow less friendly and out of control by the day. Online everything allows the consumer to shop and also to eat easily without having to venture outside the household sanctuary. This is a powerful motivator that may only accelerate in the face of COVID-19.
The need for help – an opportunity in the making
Food retailers and brands are facing an extraordinary moment when behaviors and offers could coalesce to help consumers realize new home-based food consumption habits and even culinary ambitions. Of course, there will be a need to prepare for a potential onslaught of online ordering that could tax delivery services.
However, and importantly, there is an enormous opportunity here for retail, food brands and meal kit providers to be of help to consumers in gearing up for home cooking realities and adventures. Conditions like the potential of a pandemic are unusual and may create behavior shifts that will continue beyond the end of the crisis.
Here it is simply stated: how can you help the consumer with a rapid rise in home cooking occasions and a parallel need to know more about creating menus, meal preparation techniques, ingredients, food storage and safe handling, and sharing their experiences and ideas with others in your brand communities?
Now is the time to step up with tools and resources designed to enable these at-home eating experiences while positioning your banner and brand as a go-to, empathetic voice and valued resource.
Home cooking tool time
Some recommendations on the path forward:
Publish download-able menus tied to special offers and connected to shopping lists.
Serve as guide by providing instruction via online video on cooking skills and techniques – especially for vegetable dish preparations that aren't as well understood.
Inspire the home cook by bringing chef techniques and voices to the table on cooking hacks and layering flavors.
Enable social sharing of meal ideas and preparations among your shopper community.
If ever there was an Instagram moment, this is it. Your social pages can be a helpful, informative and inspiration resource for novice home cooks.
Answer common food preparation and storage questions like, should you refrigerate berries or should you avoid storing apples near bananas. Shelf life questions will likely be common.
Communicate early and often on food delivery conditions, wait times and manage those expectations.
Get creative: food retailers can offer online meet ups and interactive webinars that will help families manage at-home events and dinner parties (social channel broadcast opportunity).
In short, become a resource and not just a product source.
Emergent believes this return to the kitchen is likely to have a lasting impact on the growth of e-commerce grocery ordering, and a long term upswing in home cooking.
If you're wondering how to navigate this rapidly changing environment, we can help.
Looking for more food for thought? Subscribe to our blog.
Bob Wheatley is the CEO of Chicago-based Emergent, The Healthy Living Agency. Traditional brand marketing often sidesteps more human qualities that can help consumers form an emotional bond. Yet brands yearn for authentic engagement, trust and a lasting relationship with their customers. Emergent helps brands erase ineffective self-promotion and replace it with clarity, honesty and deeper meaning in their customer relationships and communication. For more information, contact [email protected] and follow on Twitter @BobWheatley.