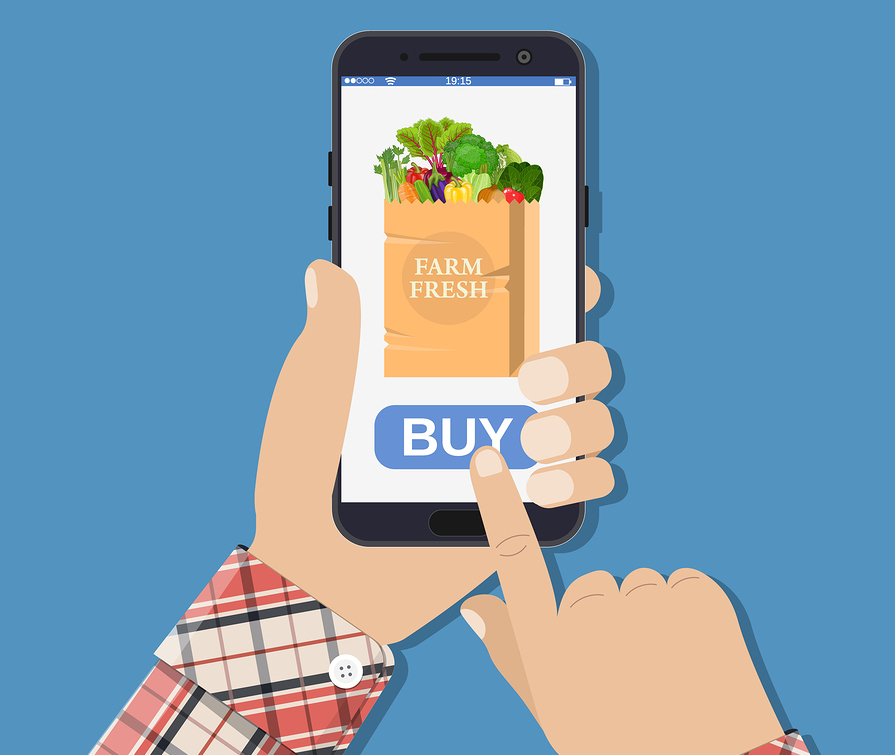 June 6th, 2017
Posted by Emergent
food experiences, Food Trend, Healthier habits, Healthy Living, shopper behavior, shopper experience, Uncategorized
0 comments on "The Real-Food Uprising"
Re-making the food and beverage business landscape
The single most important and disruptive change in food culture, now winding its way through virtually every part of the industry, is the overwhelming desire for fresh foods.
Call it the quest for all-things real. Fresh is defined as unprocessed, simple ingredients and often refrigerated. Fresh also conveys to consumers higher perceived quality, better taste and healthier. And so the packaged food world finds itself facing a state of transition as fresh versions overtake and replace their processed cousins.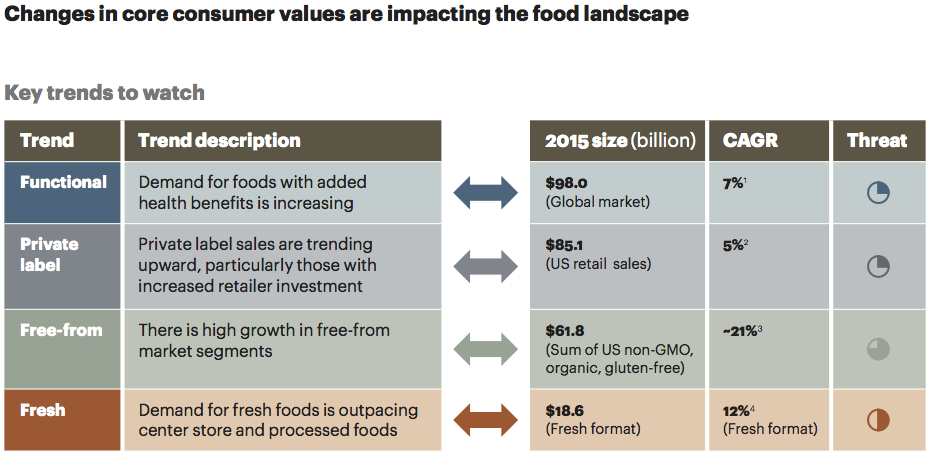 A.T. Kearney/Hartman Group study "Is Big Food in Trouble?" tracks growth of fresh trend as the dominant shift in consumer preference.
Why are meal kit solutions taking off so rapidly? Because they fit with fresh – offering real food ingredients already portioned and curated for menu creation. The meal kit is a form of convenience and taste adventure that connects to the consumer's desire for experimentation. Thus, meal kits sit squarely on cultural relevance driving the fresher, higher-quality ingredients business.
Fresh fuels grocerants and more interesting prepared foods
The emerging fast casual restaurant sector is symptomatic of the fresh revolution and move beyond fast, cheap and common foods that have dominated the QSR category for decades. Fast casual's emphasis on open production, customizable, made-to-order foods using fresh ingredients is relevant and in sync with consumers' interests for higher-quality, healthier food experiences.
Grocerant strategies: all of this should instigate change at food retail to elevate Deli menus, think creatively about prepared foods sold for take-out, and improve in-store dining experiences.
Fresh food implications for retailers –
1. Investment in culinary-trained commissary staff and fine dining experienced chefs in leadership positions (Chief Culinary Officer).
2. Open kitchens and preparation spaces to show ingredients and allow for customizing menu items.
3. Reworking Deli menus to add more creative, global influences to prepared food options, beyond the comfort staples like meatloaf and rotisserie chicken.
4. Creating improved in-store signage and merchandising that will alert shoppers to fresh, in-season, locally sourced products.
5. Building content and storytelling around locally-sourced ingredients, farmer profiles, as well as tangible investments in local agriculture.
6. Cooking classes to inspire improvements in culinary skills and adoption of chef techniques for the home kitchen.
7. Better designs and environment for dine-in spaces inside food retail.
E-commerce traction and influence on fresh
There are those who simply love and enjoy food shopping – call it a sort of culinary catharsis – and want to visually experience the fresh options arrayed in front of them. Shopping at the store is, for some people, a type of food religion observed with regularity. For others, convenience must address the demands of busy lifestyle where online ordering is a valued (even required) option.
Mobile-based ordering platforms – in web and app form – are not peripheral but rather integral to the food retail eco-system. We believe e-commerce will be a factor in fresh product sales. Increasingly, consumers are getting used to the process as orders continue to meet and exceed their quality and freshness expectations.
Where the e-commerce play becomes a real exciting opportunity is when local sourcing can be woven together with digital ordering and delivery – such that time between farm and dinner table is shortened considerably.
As digital sophistication increases, another game changer would be the ability to solve and resolve last-minute ingredient or recipe needs (where rapid ordering and delivery is required).
Fresh and healthier
There is no other consideration more relevant, important and powerful than the groundswell towards healthier lifestyle. While healthy food was at one time attached to diet products, the meaning has changed considerably.
Foods made from simple and less-processed ingredients continue to gain traction, while better-for-you snacks are encroaching on more indulgent rivals.
Insight: we are moving from a production-fueled system to a demand-driven system, founded on the consumer's interest in real foods and a parallel desire to know more about ingredients, sourcing, transparency, and sustainability.
For strategic planning purposes, food retail and food brands should look hard at the following consumer cues for guidance to what matters on the demand side:
Fresh, real
Health
Higher quality
Discovery and experimentation
Kitchen creativity
Indulgent reward
How brands and retailers respond now will have great bearing on their relevance and success later on.
Emergent's strategic planning capabilities are designed around this agenda: marry insight to optimizing growth strategies and translating this work to more effective communication.
Looking for more food for thought? Subscribe to our blog.
Bob Wheatley is the CEO of Chicago-based Emergent, the healthy living agency. Emergent provides integrated brand strategy, communications and insight solutions to national food, beverage, home and lifestyle companies.  Emergent's unique and proprietary transformation and growth focus helps organizations navigate, engage and leverage consumers' desire for higher quality, healthier product or service experiences that mirror their desire for higher quality lifestyles. For more information, contact [email protected] and follow on Twitter @BobWheatley.