Turning forgettable messaging into UNforgettable engagement…
The vast majority of brand communication fails to engage its intended audience. It's like continuously pumping messaging fuel into a mental gas tank with a hole in the bottom. Why? Because it is inadvertently constructed to be quickly forgettable.
Numerous behavioral research studies confirm within an hour people forget more than half of the information they've read, seen or heard. That percentage rapidly accelerates as more time goes by. Pfft, gone.
The message creator hasn't fully grasped the critical elements of compelling, memorable storytelling that respect with what we know about how people operate. Instead, they lean on fact-based, logical feature/benefit oriented pieces of communication that won't intersect with the emotional drivers that secure engagement and trust.
Consider this: stories are 22 times more memorable than facts. But what constitutes great storytelling? The best of the best storytellers recognize they are interacting with humans and work to understand specifically what drives cognition and outcome. For one you have to move beyond the product "plot" to plant a beating heart in the brand story with consumer as hero.
You're speaking to a human
The magic occurs when great communication engages the neurotransmitters that drive people towards and not away from what is being conveyed. The two most important physical elements of messaging brain chemistry are Dopamine and Oxytocin.
Dopamine is a 'feel good' neurotransmitter that is produced when a person is expecting some kind of meaningful reward or pleasurable experience. Dopamine helps us strive, focus ourselves and find things interesting. It has a direct impact on learning, motivation, mood and attention. The key here is creating anticipation of a sought-after reward.
Oxytocin is a hormone that operates as a neurotransmitter. It is created when people hear and experience how much you appreciate and care about them. Unsolicited acts of kindness can be instrumental in building this response. Oxytocin is the precursor to enhancing empathy and trust. You already know how fundamentally important trust is to any kind of real brand-to-consumer relationship.
Do you still believe that fact-based arguments are the way to go? The information will begin to disappear from your customer's head within an hour.
The most powerful example of this I've ever experienced was during our work for home safety products brand First Alert, and the introduction of the world's first residential carbon monoxide alarm. It is a living illustration of the link between emotion, empathy and impact on behavior.
The carbon monoxide (CO) poisoning story is laced with facts about sources of this unseen gas in the home, how leaks occur, what happens in the human body when it is ingested, and what the impacts look like. Yet our message testing revealed that none of that held a candle to the power of a personal story about a Maine family who lost their eldest daughter in a CO poisoning incident.
The heart-wrenching narrative about what happened to this family made the case for protection from an invisible threat in a far more personally-compelling way than any fact or figure ever could. Relate-able emotion is a powerful and influential communications tool.
The path to better communication outcomes
What is your consumer looking for? People resonate to a desire for love, connection, acceptance, safety and happiness. The goal here is weaving together a story that encounters this insight in various ways.
Your cheese business is not selling cheese. You are using compelling visuals and copy to convey mouth-watering desire. You're actually selling incredible taste experiences delivered in a shared social environment people crave. Your narrative wraps in beliefs and values that embed your brand with deeper meaning. This transcends the forgettable 'buy my cheese' message because you know people want to be a part of something greater than themselves.
Tone here is important. The more human you are in storytelling, the better. Vulnerability and honesty come in to play when you're reaching for resonance and relevance. Give your audience experiences they can relate to, empathize with and recognize in their own lives.
Want to hear the voice of honest and human?
"Smart phones exist already and they're stupid. But mine is smarter than your computer at home." Steve Jobs, launch of the iPhone. Does Jobs employ facts, technology examples or recitation of features? No. He nails the proposition by creating a relate-able context of what was an astonishing revelation in its era. Beautiful.
Story structure
Here's the question that must be answered in brand storytelling: how does your product change a person's life? You are working to unearth the true "why" behind a consumer's reason and desire to purchase.
Stories should address three fundamental elements:
Set up – the problem your product solves. Think long and hard on a higher level about what this is.
Conflict – create some tension around how you go about solving the problem. Is there a villain you can identify?
Payoff – the happy outcome of what success is and what it feels like to prevail.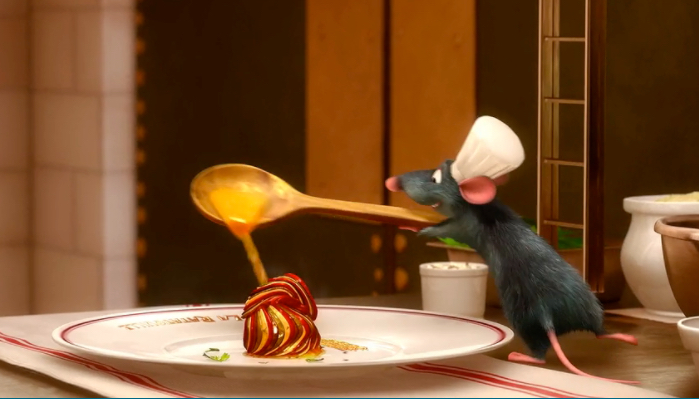 The Pixar movie "Ratatouille" isn't about a rat as chef
Yes, the central character Remy the rat can read cookbooks and has ongoing conversations with a famous French chef who is a figment of his imagination. The magic of this story is his love affair with food and flavor combinations. It is his passion for incredible taste experiences that drives him and the arc of the story.
He makes you want to cook, to pick up a knife and chop, to invent and create because of the romance he liberally dollops into his sauté pan. Pixar studios is famous for embedding heart and soul in its movies. What inevitably happens? You get invested, you care, you become engaged and feel empathetic for the characters involved.
This understanding of great storytelling is no less important and meaningful in business communications. Your brand deserves this kind of thinking and expression under what could become the unforgettable stories you tell.
If this approach resonates with you, Emergent employs a proprietary brand story telling process to tease out these great narratives and bring them to life. Use this link to find out more.

Looking for more food for thought? Subscribe to the Emerging Trends Report.

Bob Wheatley is the CEO of Chicago-based Emergent, The Healthy Living Agency. Traditional brand marketing often sidesteps more human qualities that can help consumers form an emotional bond. Yet brands yearn for authentic engagement, trust and a lasting relationship with their customers. Emergent helps brands erase ineffective self-promotion and replace it with clarity, honesty and deeper meaning in their customer relationships and communication. For more information, contact [email protected] and follow on Twitter @BobWheatley.

Tags: