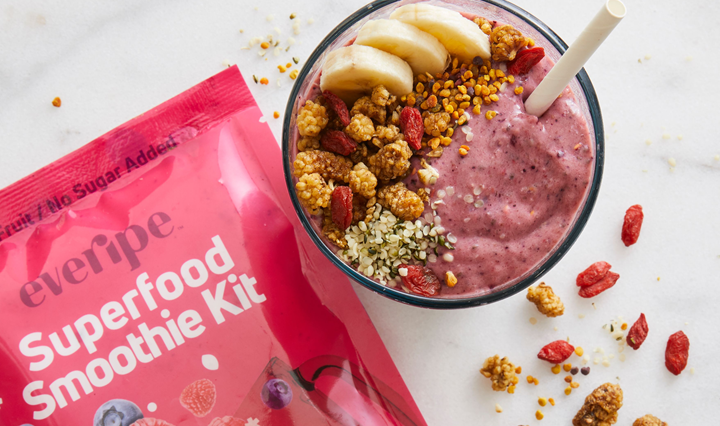 June 12th, 2020
Posted by Emergent
brand marketing, brand messaging, brand strategy, change, CMO, Consumer insight, Emerging brands, Emotional relevance, Growth, Insight
0 comments on "Everipe Stands on a Moment of Extraordinary Relevance"
Right for the times we are in and when it truly matters
Perhaps the single most important emotional revelation coming out of the pandemic and surrounding events is the complete loss of control experienced by people, now buffeted by an unseen disease and historic events. The conditions have taken charge of our everyday lives, challenged our cultural norms, and affected our behaviors and personal priorities.
We now have overwhelming evidence that people want to reassert control in their lives in meaningful ways. In our recent article, Health is the New Wealth, we started a discussion around the one thing consumers can actively participate in controlling that helps correct the imbalance and uncertainty they're experiencing: health and wellbeing matters.
The pandemic amplifies the health and wellness issue exponentially as people work to protect themselves by investing in their immunity thresholds through better eating and healthy living. This has influenced the purchase patterns and brand preferences for millions and ushered in an era of incredible innovation brought by entrepreneurs who, right and left, are reinventing legacy categories and creating new ones with better ingredients while serving a higher purpose to boot. Every so often we come across a new brand that has relevance written all over it because it so squarely hits the touchpoints of what matters to people now.
Everipe lands at precisely the right moment with precisely the right solution
The pandemic has locked families into homebound consumption occasions and a need for healthy beverages that are pantry ready and convenient. Imagine this: a shelf-stable, super-food smoothie developed using freeze-drying tech to perfectly preserve real fruit ingredients. Freeze-drying removes moisture while also concentrating the flavor profile.
Then add super-food ingredients to enhance nutritional density. Make it easy to do – just add water, juice or dairy and some ice to a blender. Make it at an affordable price point. And oh by the way, eliminate the hassle of building a homemade smoothie from scratch while fresh fruit ingredients go from ripe to fuzzy in a matter of days.
Everipe is right for the moment we're in. We interviewed founding partner Kerry Roberts to learn how the company is handling the pandemic and what they see in the future ahead. Here's our Q&A with Kerry and some related observations from Emergent.
1. In the last 60 days much has changed for emerging food and beverage brands. How has the pandemic impacted your business and what changes have you made in how you go-to-market?
Kerry Roberts: "These last couple of months have managed to pull the rug of 'business normal' out from under us as company leaders, parents, and partners.
Everipe, is a direct-to-consumer, shelf-stable superfood line of good-for-you smoothies. We suddenly found ourselves relevant for these functional benefits overnight, and for reasons we never could have crafted in a strategy deck. We were incredibly lucky to have planned a launch with Amazon in March that was expedited with Amazon's emerging business team given the need for nutritious (easy to ship) pantry foods – and so we have seen that channel immediately exceed our expectations. At the same time, we're seeking out additional E-commerce channels with launches in past weeks on Zulily, Walmart.com and we're temporarily pausing any plans to pursue brick and mortar."
Emergent: Ready-to-drink smoothies have been around for a while, but many of them are higher in sugar and the taste isn't quite on a par with fresh-blended versions. Making smoothies from scratch is time consuming, like baking a daily cake. Frozen fruit ingredients can be expensive and there's only so much room in the freezer to start anyway.
Everipe hits so many appropriate buttons from great taste to convenience to nutrition delivery to satisfying at a friendly price – you just know this is going to catch fire. My oldest daughter, who is a smoothie fanatic, loves them. The innovation here is timed, positioned and packaged correctly.
2. What specific changes have you implemented in your sales and marketing strategies?
Kerry Roberts: "Consumers in the early stages of quarantine were shopping under duress and it was important to recognize that they were not wired for aisle-browsing discovery of new brands and their messaging.
As we thought about consumer motivations and how they had shifted on-a-dime in our category from things like energy and weight management to home delivery and shelf-stability, we immediately adjusted our messaging.
Instead we focused on pantry storage, clean ingredients and free delivery – which sound functional at face value, however they all ladder up at present, to safety.
Tactically, in addition to seeking out expanded e-commerce distribution, we're also leaning aggressively in on our own direct-to-consumer channel, offering a deep trial discount and tripling our digital Ad spend to introduce a captive audience to Everipe."
Emergent: Right here you are witnessing the one great lesson that feeds trial and development of a new brand: put the consumer first at all times. Listen carefully to what they are saying, how they are behaving. Be cognizant of the environmental conditions they find themselves in. Work to understand the nuances of what they care about and plan backwards from there.
Relevance and resonance are the twin engines of growth in food and beverage businesses. You can't have either without an acute understanding of what drives consumer behavior.
The "if you build it they will come" approach just won't work. Everipe understands the consumer comes first. Period.
3. How do you think investors are reacting to the COVID-19 situation and how does that impact their interest in brands like yours?
Kerry Roberts: "Everipe has not taken on funding as yet and as we think about the coming months, we're conscious that dollars may tighten as Venture Capitalists and funds work to support their own portfolios through a recession.
That said, I feel this year presents an incredible opportunity for founders to create a story around how they navigated these challenging times – how quickly they pivoted, how strategic they reacted, and how they set their brand up to weather what may become a lengthy recovery.
With no shortage of incredible product ideas, I think investors look to invest in founders as potential teammates. While this may not be an easy time to champion an emerging brand, the chance for founders to showcase your character and intellect is probably as poignant as it's ever going to be (at least I hope this is as tough as it gets!)"
Emergent: We are reminded once again that it is the strength and skill sets of founding partners and creators that imbues brands with "difference." It is rare that you find a CPG experienced marketer like Kerry Roberts at the controls of building a new brand like Everipe. More often than not founders don't hail from the marketing discipline. Yet, how a new brand is packaged and presented can have enormous impact on scale and staying power.
Knowing your skill sets and capabilities can help owners identify the blind spots – and brand building can be one of them. This is why Emergent is a resource for emerging brands. Consumers are emotional creatures. They do not make analytical, fact-based decisions concerning the brands they care about.
We know that both the stories and the words used to convey the value proposition are of great importance in creating a strong brand right out of the gate. It's a highly specialized area of expertise not always "owned" by the owners.
Kerry's presence at Everipe gives them a significant advantage, because she understands the emotional fabric and character of what a brand consists of and how vital it is these days to design it with higher purpose and deeper meaning.
4. How will the economic uncertainty and lifestyle impacts of the pandemic influence consumer priorities and behaviors?
Kerry Roberts: "I reflect on the spotlight placed right now on wellness, particularly immunity – and health as the only currency that really matters and I am hopeful that the connection between how we fuel our bodies, and how we feel, (and heal), becomes more appreciated.
At the same time, I worry that in a recession, consumers may not have the resources to invest in healthier options. As a startup with lean margins we understand this friction. I hope that the leadership for making truly clean foods more accessible continues to extend to, and include, big CPG businesses who have the resources to make those changes."
Emergent: As we've said, "Health is indeed the New Wealth." The pandemic and related events have made the home a more important safe zone; making and consuming food at home more desired; and investing in our health and wellbeing a top priority. There is no greater calling now for the food and beverage industry to acknowledge this will not be achieved through incrementalism in formulation adjustments, but in reinvention of legacy brands to answer the desire for higher quality, shorter ingredient decks and improved nutritionals.
Six years ago we reported on the seismic move in food and beverage preferences to fresh, locally sourced, higher quality food and beverage choices as people fully connected the dots between what they ingest and the quality of their lives. This single event has created a shift in consumption patterns, food and foodservice retail strategies, and changed the very definition of what better-for-you eating is about. The pandemic has only heightened the shift.
Better-for-You is what the consumer cares about. It is what they want. A panicked blip in sales of boxed mac and cheese should not be interpreted as a lasting return to highly processed food consumption.
If we indeed care about the health and wellbeing of our users, we owe it to them to advance the creation of healthier products and new food and beverage experiences like Everipe.
5. What advice can you offer to the founders and investors of new emerging brands that will help assure their continued growth?
Kerry Roberts: "I wish there was a pandemic playbook! If I might offer any advice it would be:
To think carefully about any aggressive plans for rapid expansion and instead to first ensure that existing partners and channels are well cared for, and cash is managed.
To double down on listening to and serving your consumer, employees and partners. Your most efficient marketing efforts right now may just lie in how you listen to and treat people.
To get comfortable with the discomfort of not having a crystal-clear road map. Exercising mental muscles for making the best decisions with available information, while the ground shifts underneath you, will position us all well as an uncertain future unfolds."
Emergent: Following the true north and optimal strategic game plan in these uncertain times requires that new and emerging businesses pay close attention to consumers – and continuously dial how the brand and business behaves to serve their needs. What people want now is greater control over their lives and to invest in their own health and wellness. This is the path.
To the extent the brand lives in service of improving customer wellbeing, the opportunity for continued growth is achievable. The brand's role here is as expert guide and coach on the consumer's life journey. That principle should sit at the foundation of business decisions, marketing messaging and how the offer is presented to all stakeholders.
Too often we see a form of brand narcissism unfold when the business celebrates itself and is in love with its formulation first, over its relevance to fulfilling consumer needs. Business is now built on reciprocity and that requires a less self-centered operating philosophy.
Everipe is on a journey itself
As much as we speak about the consumer journey to fulfillment, meaning and purpose, so too Everipe is on a path to revolutionizing the smoothie and healthy beverage category. It will not be easy. Nothing of any real value ever is. Kerry's comments are evidence of a remarkable sense of self and values that operates as guardrails for their decisions and provide a litmus test for their judgments.
We see great opportunity ahead. When food retail distribution re-emerges as a channel for their growth, we believe the evolving center store will become more of a curated location for higher quality, healthier choices. Everipe will likely be a star in that environment.
If your brand and business is on the hunt for fresh ideas, and improved brand storytelling, we'd love to talk with you.
Editorial note: Emergent would like to express our deepest appreciation to Kerry Roberts for participating in this story and helping to inspire and educate other brands now trailblazing a new healthier frontier in food and beverage.
Bob Wheatley is the CEO of Chicago-based Emergent, The Healthy Living Agency. Traditional brand marketing often sidesteps more human qualities that can help consumers form an emotional bond. Yet brands yearn for authentic engagement, trust and a lasting relationship with their customers. Emergent helps brands erase ineffective self-promotion and replace it with clarity, honesty and deeper meaning in their customer relationships and communication. For more information, contact [email protected] and follow on Twitter @BobWheatley.