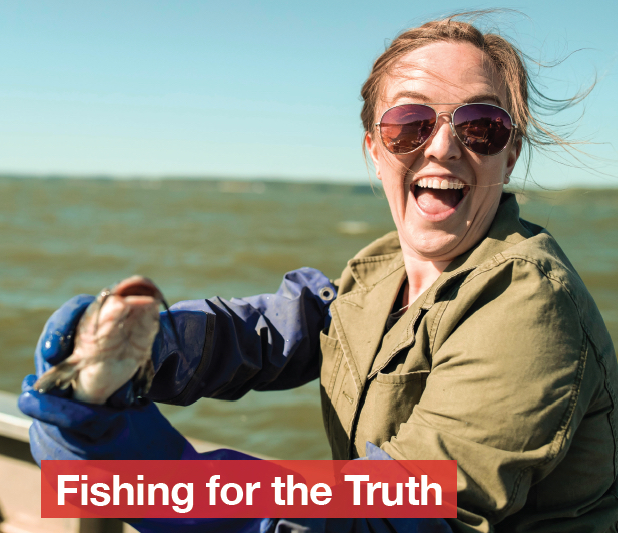 June 16th, 2023
Posted by Emergent
brand marketing, brand messaging, Brand preference, Differentiation, editorial relevance, Influencers, Insight, media relations, media strategy
0 comments on "Third-Party Experts Drive Brand Trust"
The influential role of respected voices in building credibility
Risk-averse consumers now look to brands to provide credible validation and verification of the promises they make and assertions about product performance and benefits.
No surprise brand trust is at an all-time low among consumers, and also at an all-time high as a front-end requirement for any authentic relationship between consumers and the brands that matter to them. Trust is elusive, hard to win and has a short shelf life. It stands to reason why trust should be a critical fixture in the brand go-to-market strategy. Goes without saying, trust cannot be invoked or claimed, it must be earned through tangible actions.
Strategic deployment of respected and credible voices
Repeatedly Emergent has found significant benefits for client brands and their trust equity when we involve outside, respected, trusted third-party experts to help bring added credibility to messaging, media and content. Here are some remarkable examples of this in action.
Exposing the presence of fake Italian cheese
I was seated in a small conference room next to Neil Schuman's office at Schuman Cheese corporate headquarters in Fairfield, NJ – there at Neil's request to discuss a shocking revelation about the U.S. Italian cheese category. It's important to note Schuman's father invented the U.S. Italian cheese industry in the late 1940's and since then this family-owned company has grown to be, by far, the dominant market share leader in the business.
Neil guided me through a thorough and vexing download on the presence of fake, mislabeled, fraudulent and adulterated Italian cheese in the category his company created. As category captain, Schuman believed his organization had a responsibility to shore up the integrity of the business, but was frustrated at every turn by intractable industry practices that worked to solidify the hold of adulterated cheese makers. For 10 years he had attempted to rid the category of these shameful practices but to no avail, so he turned to us for help.
I explained there would be no way to carve out the cancer of mislabeling practices without serious leverage that created risks for the companies, about 10 of them, which were doing it. I talked at length about the power of a media spotlight shined on this dark practice, as a path to creating substantial risks for those involved. If enough retail buyers were concerned by "outing" the fake products on shelves, then and only then, would buyers shut down the purveyors of cheap, adulterated versions of favored Italian stalwarts like the King of Cheeses, Parmesan.
This couldn't be a trickle of attention. It meant a big investigative story on a global platform reaching a wide audience. To get there, a fact-based, well-researched case had to be presented in a highly credible way.
We launched an Italian cheese industry integrity tour in Wisconsin, the center of the nation's cheese industry, to bring in the validation of the Wisconsin Milk Marketing Board, the Wisconsin Cheesemakers Association, the state Dept. of Agriculture, food science experts and others to form a coalition of third-party voices who could lend their perspective on why the presence of adulterated products was bad for consumers and bad for the industry.
We broke the first fake cheese story in the Milwaukee Journal business section, and then moved it to industry verticals for their reinforcement of the Italian cheese category blight. That portfolio of intense and consistent coverage was repurposed to support a credible conversation with Bloomberg News about launching an investigation of fake cheese conditions and the impact on unknowing consumers.
Bloomberg agreed on the merits and conducted an independent study and test that corroborated the presence of fake products on grocery shelves. When their story broke, we moved it to Buzzfeed and from there syndication touched off a global media tsunami about the presence of mislabeled, adulterated cheese. The outcome was abrupt – with retailers turning away from those making cheap knockoffs. Critical to success of the media strategy was the trusted, respected voices of third-party expert sources who validated and substantiated the story premise.
Helping re-position a restaurant chain from smoothie shop to healthy lifestyle brand
Jamba Juice invented the fruit smoothie restaurant business at scale. Due to the emphasis on real fruit ingredients the chain enjoyed a form of healthy halo. However, truth be told some of the recipes were steeped in sugars and the nutritionals were hardly a hallmark of truly healthy beverages.
After providing an analysis of shifting consumer trends towards healthy living, we convened the leadership team to reimagine a different course for Jamba. Our mission to help the brand re-position itself as a healthy lifestyle choice, with a new slate of better-for-you products around a new story of nutritional contributions from fruit, veg and added protein ingredients. This was as much a cultural shift for the company internally as it was a refashioning of their brand position, menu board and brand voice.
We went to work identifying and recruiting a team of the most respected outside, third-party experts in the nutrition and dietitian community, to join the Jamba Healthy Living Council as both advisors to the organization on product reformulation, and also creating content and communication that positioned the brand as a coach and guide on healthy living best practices.
The team also conducted workshops internally to help key headquarters staff fully understand and appreciate the value proposition for change and improvement through a move to embrace healthy living. The Council was also engaged to help the company navigate to a new channel, providing secondary school foodservice operators with a menu of better-for-you beverages. The drinks envisioned would be a tasty, kid-friendly vehicle for delivering mandated daily serving of fruits and vegetables in a form young people loved. It was a strategy to burnish brand reputation while helping develop the next generation of Jamba customers.
The Healthy Living Council members participated in online video creation, editorial media, social channel content and other platforms including conventions to spread the news of change and healthy product bona fides now taking root at Jamba – a remarkable transition for a company intent on creating a new future for itself based on higher purpose and deeper meaning.
Bringing transparency to the pet food industry
Pet food can be a mysterious journey for consumers with the constant drumbeat of imagery invoking steaks, beautiful salmon filets and whole chickens on product packaging. The marketing implies that a small brown nugget is in fact a stand-in for the same proteins people consume at the family dinner table. However, how pet food is actually made and the ingredients sourced have, for the most part, remained obscure behind the factory curtain.
Champion Petfoods, makers of the superpremium Orijin and ACANA brands, was unique by virtue of its long-standing commitment to source proteins from local farms and fisheries within driving distance of its kitchens. Champion in fact used fresh and frozen meat or fish in its formulations and claimed such on its packaging.
We felt this story was under-leveraged in an environment of growing consumer interest in transparency. We believed this could be leveraged in a proprietary way for Champion. Working with their marketing team, we created the Champion Transparency Council. The Council was designed as a consortium of outside respected voices in the Veterinary community along with real pet-owning brand fans who were also knowledgeable about pet nutrition.
The Council members were given full access to Champion's U.S. manufacturing facility to see and witness every aspect of pet food creation from ingredient intake to package filling. Additionally, Council members toured the nearby farms and met with the farmers and ranchers who raised or fished the proteins used in Champion's recipes. Indeed, they even went fishing to secure the catch that would later go into the pet food.
We asked them to create content and report on what they had witnessed, without filter or interference from Champion. The goal: an honest, eyes-open transparent assessment from their observations. The candid reports on the company's practices and operations provided personal validation of Champion's claims in real-life, tangible terms.
We facilitated interviews across the spectrum of relevant pet media to give Council members a forum for sharing what they had seen and heard. They were featured speakers at Champion's trade show activations. Social channel content based on their observations was produced and amplified. The Transparency Council became a dominant voice in pet business trade media extolling the commitment to full transparency in an industry with a decided lack of that form of candor and openness.
Proof, verification and validation of promises distinguished Champion among consumers and retailers as a truthful, mission-based company in a category where quality claims go mostly unsubstantiated.
The role of third-party experts in brand communication
You want consumers to trust you, to believe you, to accept the assertions you make. Yet the world at large works against this with near daily reports of obfuscation, half-truths, misstatements, recalls, and outright lying that demonstrate some businesses' lack a moral high ground and customer-first ethos.
In this uncertain environment with entrenched skepticism, strategy demands a conscious drive to create trust. Trust is earned not claimed. The role of outside expert voices works on two levels:
To observe and validate what you want people to know about how you do what you do.
To provide guidance, coaching and education to consumers on their journey to betterment and self-improvement from those with the respected bona fides to offer credible, useful help.
This is equally powerful in the earned media arena as a quote-able source engine for top level press which, on larger stories, must check the veracity of story details and scope with knowledgeable experts.
Are you intrigued by how this approach might elevate and enhance your brand's reputation and credibility? If so, use this link to ask questions. We're happy to provide perspective on how this strategy can be successfully deployed to earn greater trust for your business.
Looking for more food for thought? Subscribe to the Emerging Trends Report.
Bob Wheatley is the CEO of Chicago-based Emergent, The Healthy Living Agency. Traditional brand marketing often sidesteps more human qualities that can help consumers form an emotional bond. Yet brands yearn for authentic engagement, trust and a lasting relationship with their customers. Emergent helps brands erase ineffective self-promotion and replace it with clarity, honesty and deeper meaning in their customer relationships and communication. For more information, contact [email protected] and follow on Twitter @BobWheatley.