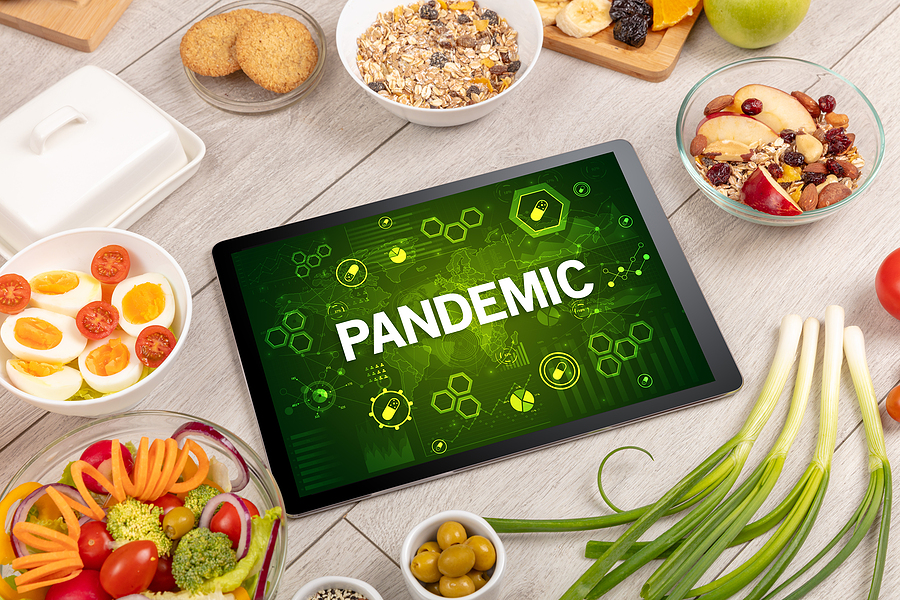 January 20th, 2021
Posted by Emergent
brand advocacy, brand marketing, brand messaging, Brand preference, brand strategy, CMO, engagement, Healthier habits, Healthy lifestyle, Healthy Living, Higher Purpose, Pandemic, storytelling
0 comments on "Pandemic driving shift in food brand value proposition"
Clarion call to optimize brand positioning and messaging now
Is your brand correctly positioned and messaging aligned to answer the pandemic induced sea change impacting food preferences and purchase decisions? If not, the fortunes of less responsive food businesses will inevitably be challenged in the year ahead.
The numbers tell the story
Root cause driving this condition is our escalating, culture-influencing battle with the pandemic. In the U.S. alone there are currently 24,800,000 cases of COVID 19 infection alongside a staggering 411,000 fatalities. This latter figure exceeds the casualties America endured in all of World War II. According to CNN, another 38,000 American lives were claimed by the pandemic in the first two weeks of 2021 alone. To provide optics on the scale of this, Johns Hopkins University reported 224,000 new domestic cases of COVID 19 in one day – Wednesday, January 13th.
With the arrival of approved vaccines will the tide turn soon? Not likely given the enormity of the vaccination challenge: In a Washington Post story on the vaccine rollout, Dr. Peter Hotez, professor of microbiology and molecular virology at Baylor College of Medicine said, "The nation must vaccinate an estimated three-fourths of Americans to interrupt coronavirus transmission and stop the spread. Reaching this target by September 1 will require us to fully immunize about 240 million Americans over the next eight months, or 1 million people every day from now until then."
A tall order.
Never before have people been confronted so closely, continuously and repeatedly with an unseen and potentially lethal hazard that impacts how we live and behave.
Evolving health and wellness calculus
As cited in the Emerging Trends Report earlier this year, health and wellness concerns were already a priority for most consumers. Now, due to a daily confrontation with a global pandemic, the case for investing in one's health and wellbeing has acquired significant relevance, gravitas and urgency.
This cultural development is reshuffling the deck of what matters as consumers look to take back control over their lives by managing what they buy and ingest with a specific goal in mind: to boost their immune system.
The calculus employed by consumers to determine their brand preferences and purchase decisions is evolving. Their goal to assess how food and beverages stack up in achieving specific health and wellness needs alongside the legacy "does it taste good" attribute.
Three anchors of message priority brands should implement
Consumers are wanting to understand how a product choice serves their health and wellness objectives, beliefs and values. At a granular level they are examining ingredients, sourcing standards and creation techniques looking for evidence of nutritional density and functional health benefits (microbiome).
Messaging and brand storytelling should rally around these important themes:
Perception of quality – now defined as a health and wellness assessment
Relevance – focus on lifestyle utility, values and beliefs (carbon footprint)
Experience – contribution to social Interaction and personal enjoyment
Immunity and safety are the primary concerns. Knowing this is the litmus test now applied to brands that fall into the "matters to me" column, are you confident your brand is correctly positioned with the right messaging strategy to address this compelling need?
Optimal storytelling guidance
Empathy could not be more important here. Reaching out with a human voice is how your brand places itself "in league" with the consumer's needs and concerns. Your story should place consumers in the role of hero with your brand operating as guide, coach and expert in their wellness journey.
Emergent's recommended approach to messaging in this environment coalesces around operating in service of the five Ps of brand-to-consumer relationship development.
Purpose – your brand's higher purpose that transcends the product itself, your deeper meaning
Pride – your ability to generate passion and inspiration around serving the greater good
Partnership – your guidance and coaching to help them succeed and fulfill their goals
Protection – help them feel secure and safe in your standards, behaviors in their best interest
Personalization – tailored to their specific needs based on keen insights about who they are
Health and wellness in support of immunity investment creates an extraordinary opportunity for food and beverage brands to closely align themselves in a relevant way with a powerful motivation consumers care about.
This development began in earnest eight years ago when a large swath of the food buying public associated the quality of what they eat with the quality of their lives, pushing food purchases towards fresh, local and higher quality food choices. This changed the definition of convenience and ushered in the era of farm-to-table and interest in supply chain transparency of packaged food ingredients while consumers worked to elevate and adjust their food choices.
Coincidentally it was this move past taste, price and convenience to health and wellness as drivers of brand growth that informed the foundation of Emergent's business model among marketing communications agencies. We are purposeful experts in healthy living.
Don't let this moment pass!
Relevance and trust are critical components now on the path to sustainable business growth. Earning and retaining these key attributes will only happen when your brand is aligned with their interests. The question you must answer: how can we work to improve people's lives and make a difference during a time of uncertainty and challenge to their wellbeing?
If a source of fresh ideas on how best to meet this cultural shift head on would be helpful to you, use this link to let us know your open to a get-acquainted conversation.
Looking for more food for thought? Subscribe to the Emerging Trends Report.
Bob Wheatley is the CEO of Chicago-based Emergent, The Healthy Living Agency. Traditional brand marketing often sidesteps more human qualities that can help consumers form an emotional bond. Yet brands yearn for authentic engagement, trust and a lasting relationship with their customers. Emergent helps brands erase ineffective self-promotion and replace it with clarity, honesty and deeper meaning in their customer relationships and communication. For more information, contact [email protected] and follow on Twitter @BobWheatley.